<! ------------------------------------------------------------ CONTENT ------------------------------------------------------------ >
latest press
NYTimes, OCT. 21, 2016
Mission to Save Internet Art
By FRANK ROSE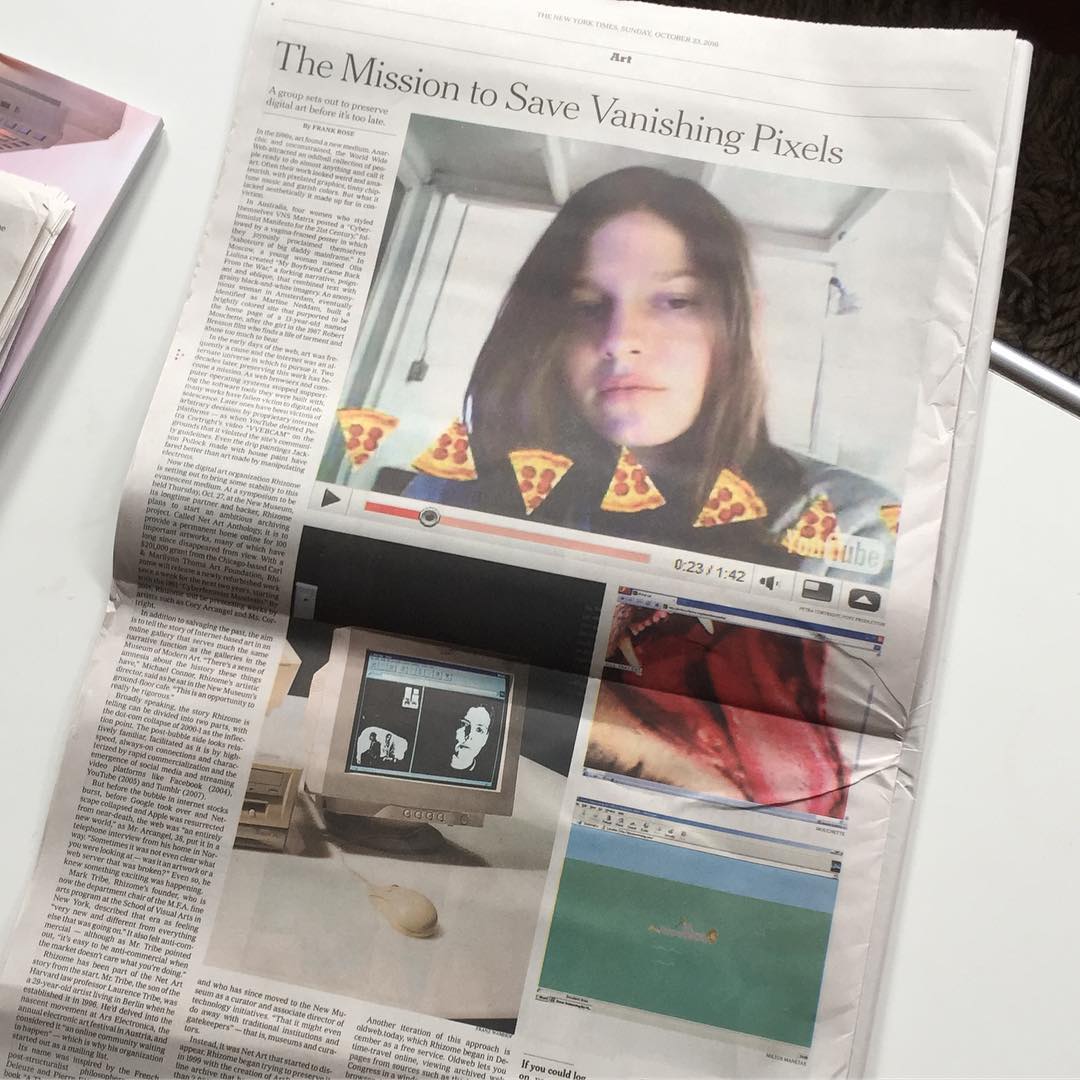 read on the New York Times
Painter, conceptual artist and theorist
Miltos Manetas is a Greek-born painter, conceptual artist and theorist whose work explores the representation and the aesthetics of the information society. Manetas is the Founder of NEEN (the first art movement of the 21st century), a pioneer of art-after-videogames (MACHINIMA) and an instigator of Post-Internet Art. In 2009 he initiated the INTERNET PAVILION for the Venice Biennial, in 2014, in collaboration with Rome's Swiss Institute, he introduced the concept of ÑEWPRESSIONISM. These days he is using DOCUMENTA 14 to develop the concept of MEDIOSUD. According to LEV MANOVICH, Manetas' art can be placed within a well-established tradition in modern painting (representing modern people in their particular modern settings). According to NICOLAS BOURRIAUD Manetas' work belongs to the domain of RELATIONAL AESTHETICS and POST-PRODUCTION
Today the 5028 artist in the world and falling..
»el tema de mi trabajo soy yo«
»The subject of my art is myself«
»il tema de mi lavoro soy yo«
De reciente-muy de reciente- descubrí, que el tema de mi trabajo soy yo!
Descubrí esto en castellano que es el idioma en que ahora me atrevo de escribir estas palabras, un español bastante incoherente como mi obras de arte. Un castellano que todavía va a ser mejorado exactamente como mis obras de arte que van a ser mejoradas de otros autores, como lo son estado mejoradas las obras de todos los artistas primero y después de mi.
Como se mejora un obra de arte visual? Mirándola!
Porque castellano? Es el idioma de mi hija y entonces de un muy joven, muy prometedor version de mi. Ella, mi hija Alpha, tiene en estos días del 2018, seis años. Mi castellano tiene cuatro. Empece escuchando Proust en Audiolibro en una finca de amigos en Barichara. Jamas y buscado, ni busco aprender el idioma, mi intención desde el principio es convertirme en una Persona Colombiana, un "Colombiano" como lo he sido Gabriel García Márquez primero de mi y como soy yo ahora incluso mi español insuficiente. Uno no tiene tempo para aprender nada, todo el tiempo nos sirve solo para trasformarnos. Todavía, mi castellano va a mejorar de seguro como se mejora cada día mi vida, mi vida que no esta acabada! Mi vida es la vida de un artista visual y no de un escritor como yo soñé desde la edad que tiene ahora Alpha y es una vida de 53 anos que de seguro va a duplicarse hasta los 100 y seis años -porque me sirven… Mi vida va a continuar y continuar y yo a mirar y a mirar… No solamente a mirar ma también a programar.
Como se programa una vida? Una manera es pintándola. Esto lo estoy haciendo desde el año 1983. Quieres ir a mirar en esto año? Acá esta.. Tenia 19 años entonces, Grecia fu apenas envuelta una bolla de fantasía "Europea", y gracias a esta fantasia-y por supuesto gracias al crédito que los "Europeos" regalaron a los Griegos por sentirse autorizados a tomar de ellos todo- me encontré estudiando Belles Artes en Roma y Milan. Esto fu en los años 1985-89, quieres ir a ver¿ Acá esta… Sabe uno que esta programando su vida? No lo sabe hasta que llega a ser viejo y entonces re-empezar a vivir, una segunda vida, posiblemente libre, posiblemente-si libre-una vida feliz! Esta es mi vida ahora: la vida feliz vida de un viejo que ahora sabe que la esta programando y lo quiere hacer acá, en el internet porque se volvió loco. Es una locura buscar de programar algo en el Internet!
Una locura buscar programar algo atreves idiomas! Yo ya pase por estas partes- gracias educación! gracias sociedad!- y jamas pensaría de hacerlo de nuevo si no fuera por mi hija Alpha. Ella ahora esta entrando en esta locura y quiero hacerlo yo también para mirar -con ojos abiertos esta vez- los horrores. Los dos estamos estamos aprendiendo Mandarin… me imagino que en sei años me voy a re-empezar todo el trabajo sobre mi en Chino..
En el mismo tiempo, yo estoy haciendo dibujos que no son dibujos pero "μέμωρι". Que es μέμωρι? No se. Acá esta..
Y estoy mirando mis antiguas pinturas y estoy haciendo dibujos -que esta vez si! son dibujos.. Acá están: Drawings Quasi Paintings.
Y estoy pintando imágenes y material desde l'Internet..Porque? Estoy loco? Porque pintar l'Internet? No se.. Acá están..El Museo MAXXI en ROMA va a tener un exposición con estas pinturas en Marzo 2018.
Y estoy proyectando cosas sobre todas las cosas.. Ago esto con mi cellular.. Por mi estas son exposiciones, mis exposiciones mas preciadas en estos días! Si quieren ver, acá están.
Y estoy continuando la Berlin Biennial 2016, un exposición que no hacia parte ma que creo que tengo que continuar para siempre.. Acá esta…
Y estoy trabajando en muchas otras cosas.. con Nora Renaud desarrollando Ñewpressionismo, y sin mis viejos compañeros Angelidakis/Plessas/Rozendaal/Ueda/Calvert buscando siempre Neen y sin mucho interés desde los países de MedioSud estoy buscando MedioSud, y sin algún interés de parte de Colombia estoy continuando el trabajo de Taller4Rojo, y estoy continuando el Padiglione Internet para la Biennale de Venezia, y estoy probando la realidad de la sobre-realtad, y hasta ahora me gusta el concepto de la Piratería, y estoy a veces recordando l´arte que hacia años antes manejando videojuegos y Machinima, y estoy a veces-y siempre- pintando porque la pintura si!!
»Como se mejora un obra de arte visual? Mirándola!«
»Como se programa una vida? Una manera es pintándola.«
»Como se mejora un obra de arte visual? Mirándola!«
<! ------------------------------------------------------------ DOING ------------------------------------------------------------ >
working HARD on Social Media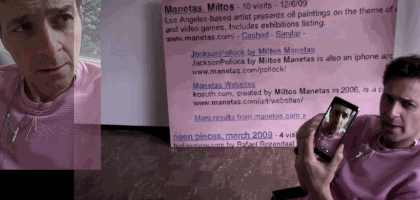 What is Art today and why?
Using just 15% of my full value
Taking advance today of the full value of our work its not a good idea. That's because Art has become such a profession that rips Time away from us... Read
»I"ve seen us locked in a triangle made by chopsticks... Three black chopsticks, USA-made by steel-Europe -made by wood- and China -a plastic one- are closing around us. They are hard and fast and we are rice. They represent the Total North«
Our lifestyle is now updated in real time. At the same time, all kinds of distances are canceled. Everywhere in the world, South and North become just one: NORTH. In the Western territories of the Northern World and mostly Europe, a new Middle South is born.
In the NORTH, the deal between society and government was always clear. During fascism, society is asked to obey, during democracy, society is asked to debate. In both cases - in the NORTH - art is the authorized voice of society. Therefore, during democracy, art HAS to debate.
read
Continuing ÑEWPRESSIONISM in America Latina
»ÑEWPRESSIONISM started in 2014 in Italy after an invitation of Rome's Swiss Institute«
¨TORTUGA¨ WITH NORA RENAUD IN MEXICO CITY
"In Mexico City, "Tortuga" by Miltos Manetas and Nora Renaud at Aldo Chaparro Studio
"Tortuga" at Aldo Chapparo Studio, Mexico City
Fac-simile of "Tortuga" at our house in Bogotá
"Tortuga" at Aldo Chapparo Studio, Mexico City
»"Tortuga" is a show I did with Nora Renaud in Mexico City«
"From Screen to Nature and Back Again..
EXHIBITING MY PAINTINGS IN PLACES
"From Screen to Nature and Back Again..
"From Screen to Nature and Back Again..
"From Screen to Nature and Back Again..
"From Screen to Nature and Back Again..
Dried Webpages AT THE INTERNET TALLER
"in Bogotá, at La Candelaria..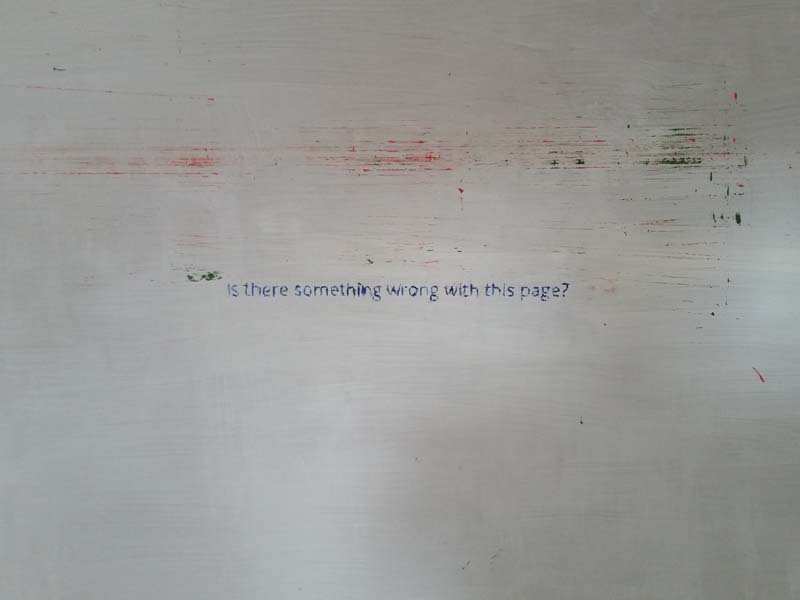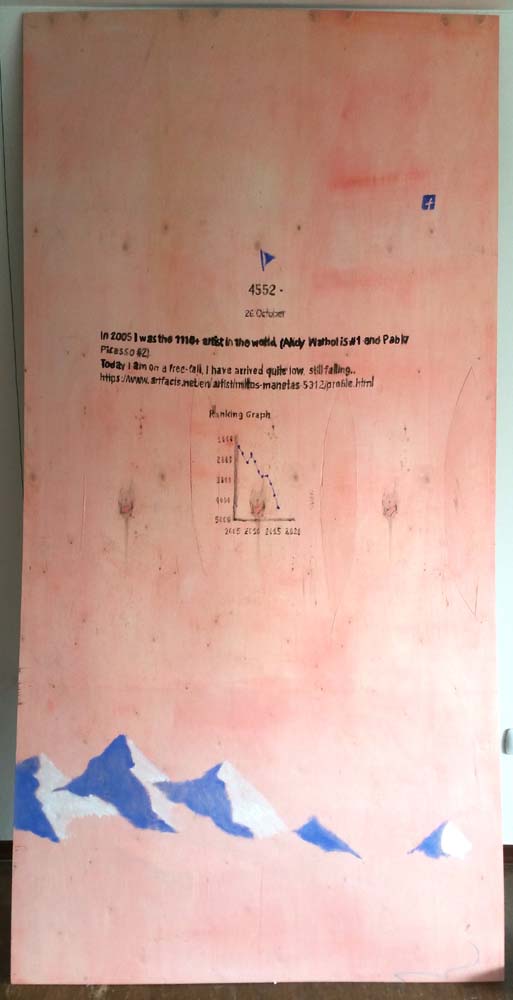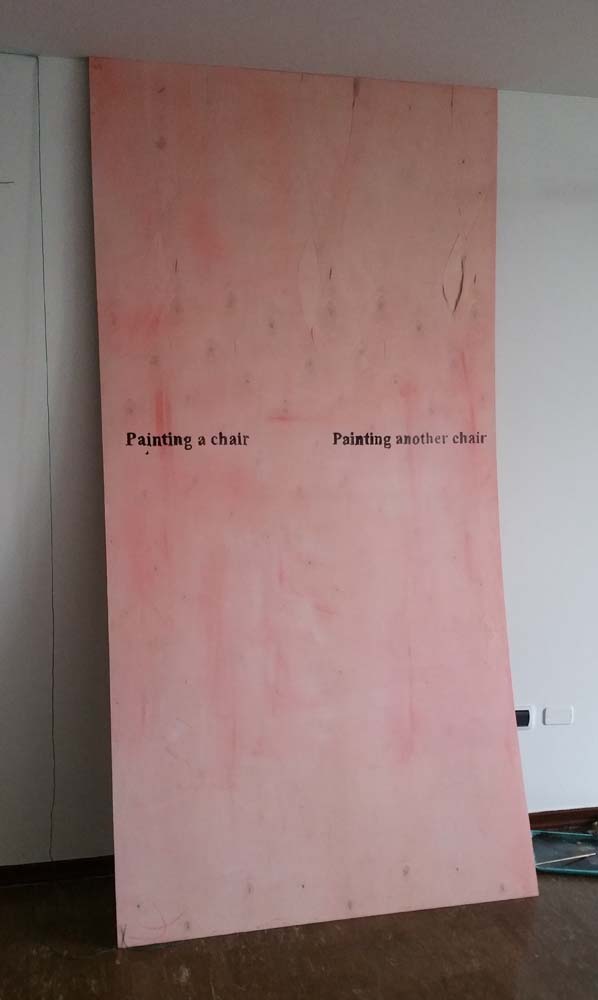 " In Spring 2015, invited to participate at the 9th Berlin Biennial the online magazine DIS was curating, I agreed meeting two guys from DIS in Bogotá but in the beginning of June, on the same day we had arrange to meet, I had to fly to Europe so our encounter never happened. We agreed to meet on Skype and discuss my participation but once I arrived in Greece I was catapulted into the Greek Summer of NO and I forgot everything else.. So the Berlin Biennial forgot me and I forgot it too until May 29th of 2016, just a few days before the opening of the exhibition that a friend told me he was going to Berlin. "I am part of this show"-I told him- "wait, I am not!".. Suddenly thinking I maybe missing something important, I looked online and noticed that the subject of this Biennial was exactly the issue that interests me the most: "our strange new life". So I decide to participate anyway... That same day, I sit on my computer and "sucked" everything from BB9's official website . Somehow magically learning how to modify it, I start re-creating the Berlin Biennial at Biennale.net by adding the content that -I believe- was missing.. I also start looking the Biennale online, at its […]" Instagram and Facebook and start remaking them at Instagram and Facebook . Following the tag #berlinbiennale , I discover that this exhibition was new Century's most interesting exhibition of its kind. But to become crystal-clear, my contribution was needed so I start "painting" it online, using my "Painting with Likes" technique that I invented on the spot. As I am convinced that "Shows-that-matter-should-never-end", I think I'll keep working on this show forever...