<! ------------------------------------------------------------ CONTENT ------------------------------------------------------------ >
SEPT 2023:
Monastero La Foresta, Castello, Valsolda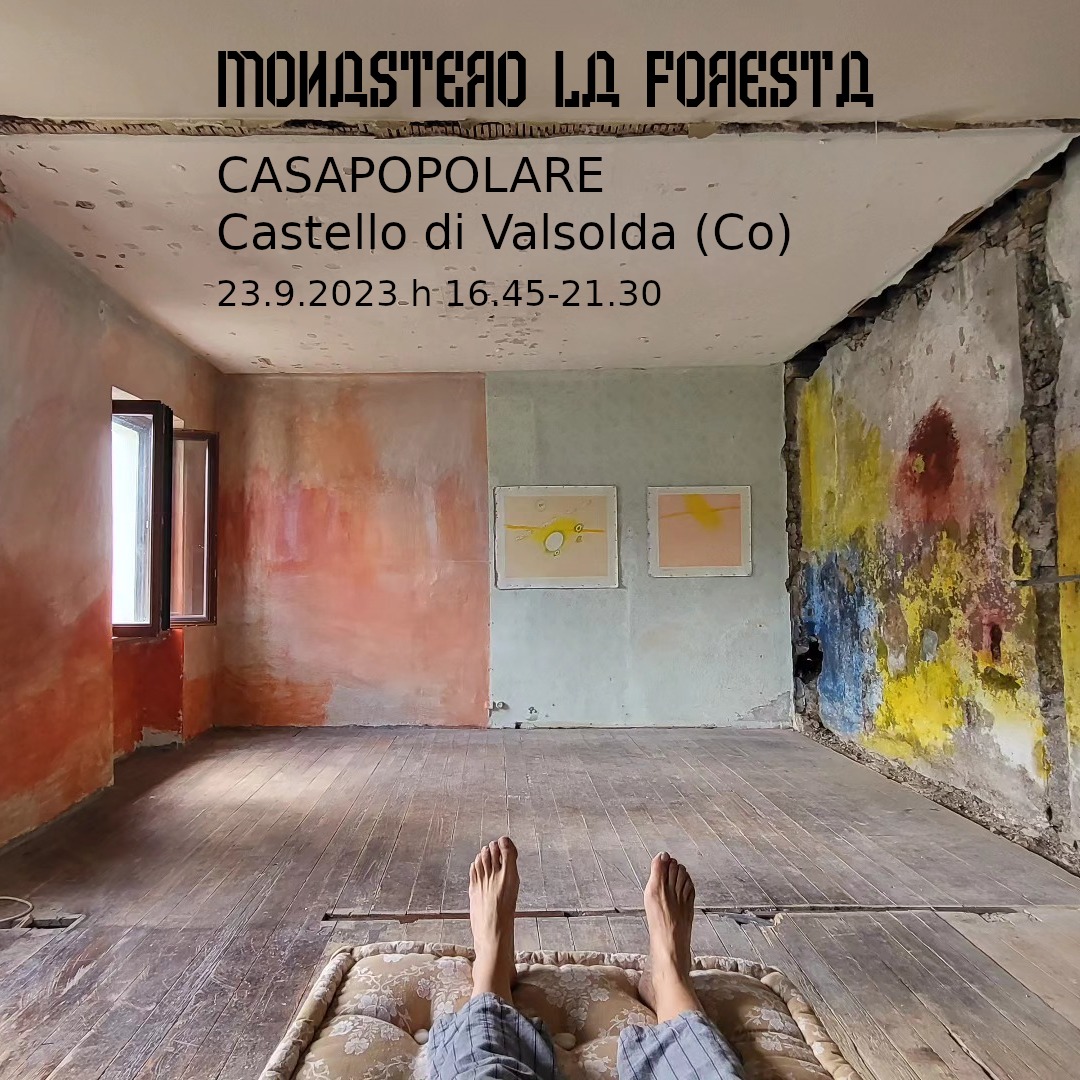 "Monastero La Foresta" curated by Riccardo Lisi
CONTINUES:
IN OCTOBER:
Miltos Manetas is a Greek-born painter, conceptual artist and theorist. His work explores the representation and the aesthetics of the information society. Manetas is the Founder of NEEN (the first art movement of the 21st century), a pioneer of art-after-videogames (MACHINIMA) and instigator of POSTINTERNET and NFT.
In 2009 Manetas was invited by VENICE BIENNALE to create the first INTERNET PAVILION. In 2014, Rome's SWISS INSTITUTE hired Manetas to bring Swiss art to the Digital Age and Manetas came with the concept of ÑEWPRESSIONISM which he went on developing on Social Media using his techniques of OVEREALITY and METASCREEN.
in 2017, Manetas used DOCUMENTA 14 for his concept of MEDIOSUD. In 2018, Rome's MAXXI realized Manetas' INTERNET PAINTINGS, a three months performative exhibition. In 2019, his NEOUMILE Modus Operandi was hosted by Rome's MACRO. In 2021 MANETAS FLOATING STUDIO began. From 2023, Manetas is producing AI POLAROIDS.
According to LEV MANOVICH, Manetas' art can be placed within a well-established tradition in modern painting (representing modern people in their particular modern settings). According to NICOLAS BOURRIAUD his work belongs to the domain of RELATIONAL AESTHETICS and POST-PRODUCTION
»I have no time for success and money«
»How do you program life? By painting it!«
»Come perfezionare una pittura? Guardandola!«
»Come programmare la vita? Dipingendola«
»How to optimize a painting? By looking at it!«
That´s what I did the last five years...
"Internet Paintings" at MAXXI
MAXXI dedicates a focus exhibition to the artist that between social networks, selfie, fashion and Google Street View explores the imaginary of the contemporary age. For his solo show Miltos Manetas brings together with large canvases a world populated by selfies, a reality observed by Facebook, pornographic images next to fashion, the streets of the whole world he recorded by Google. A painter, conceptual and theoretical artist, recognized at international level for his internet-based works and for having founded in 2009 the first Internet Pavilion at the Venice Biennale, Miltos tells about the emotions and the imaginary of our contemporary era. Curator: Bartolomeo Pietromarchi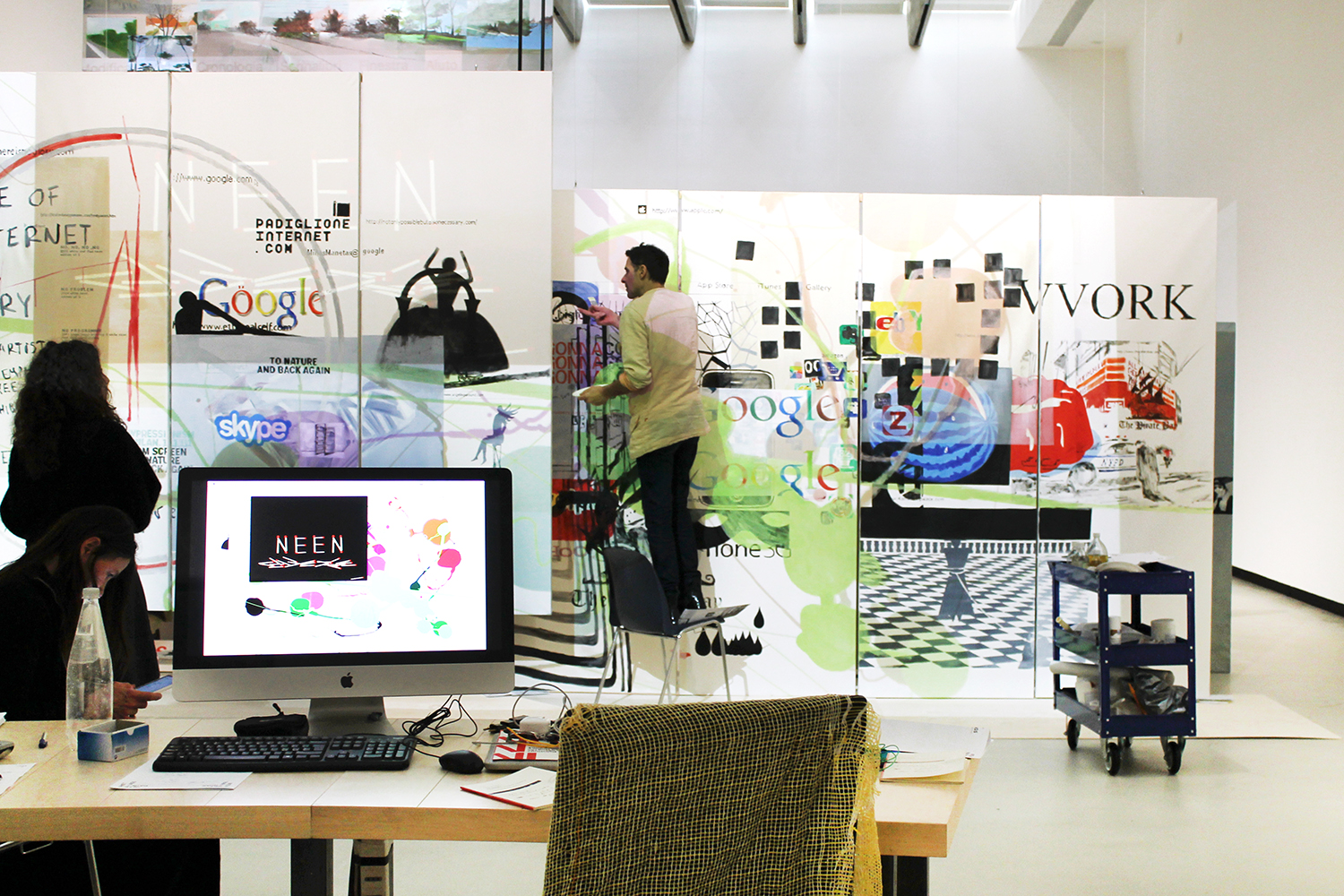 Recognised worldwide for his internet-based works investigating new technologies and their influence on human beings, the artist brings together on canvas inputs from the virtual world and processes them through the analysis and decodification of the real and its representation, thus creating a new inconographical system of the present.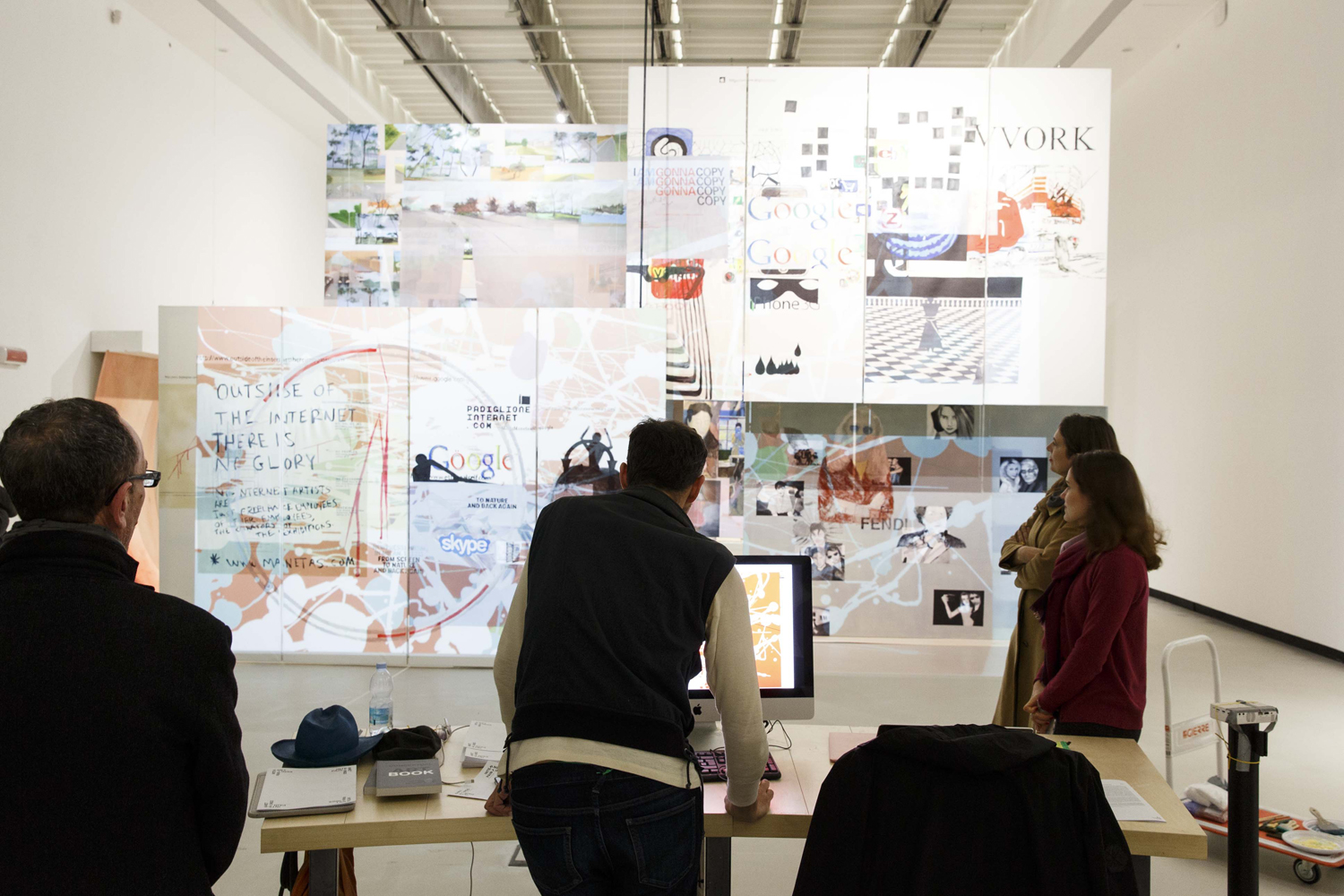 Through oil painting and the web, the Internet Paintings come to life on canvas Collages of site and images collected on the web, the surface of the Internet Painting modifies, updates and houses new pages just as every web site continuously evolves, appears and disappears. The themes of the paintings in the project: #Bb9#BerlinBiennale2016 (il presente travestito), Google Street View, MedioSud, Moda Muerta, Natura Matura, NEEN + Ñewpressionism, Selfies.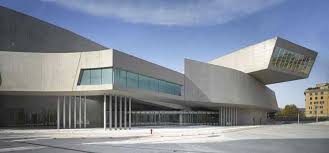 Manetas's creative process, based on a profound need to communicate typical our present is shared with other people: throughout the period of the exhibition those who responded to an open call will play an active part, together with the artist, in the conception, creation and modification of the pictorial cycle.
And in 2022, "Notte Oscura"
at Fondazione Memmo in Rome. Notte Oscura_Conversation Piece | Part VIII Pauline Curnier Jardin, Victor Man, Miltos Manetas. Curator: Marcello Smarrelli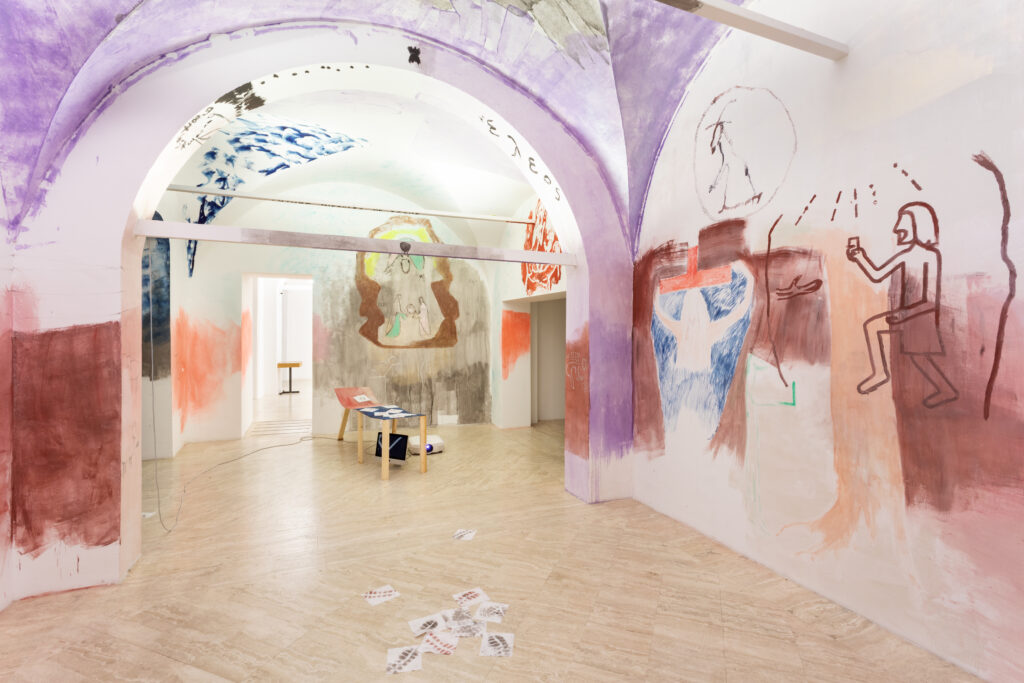 Manetas proposes a work in situ and in progress with the help of his 'assistant' DALL-E (AI capable of generating images from textual descriptions). Manetas defines this type of work as his 'contemporary cave' which, in short, is an environment totally covered by his anti-painting (a light, ephemeral paint produced by pouring liquid soap over colour pigments on the wall, with no basic preparation), continuously tracing and erasing the images produced by DALL-E. In fact, the work continuously changed shape during the course of the exhibition, with the artist periodically intervening. The environment, therefore, acquires anti-analogue characteristics: analogue-digital in its demiurgy, digital mimesis in its display, leading the concrete walls of the exhibition space to resemble – not so much in form as in meaning – a digital environment, a screen of our ever-changing existential technological devices, eternally poised between aesthetics and knowledge, never stable or ever completely clear.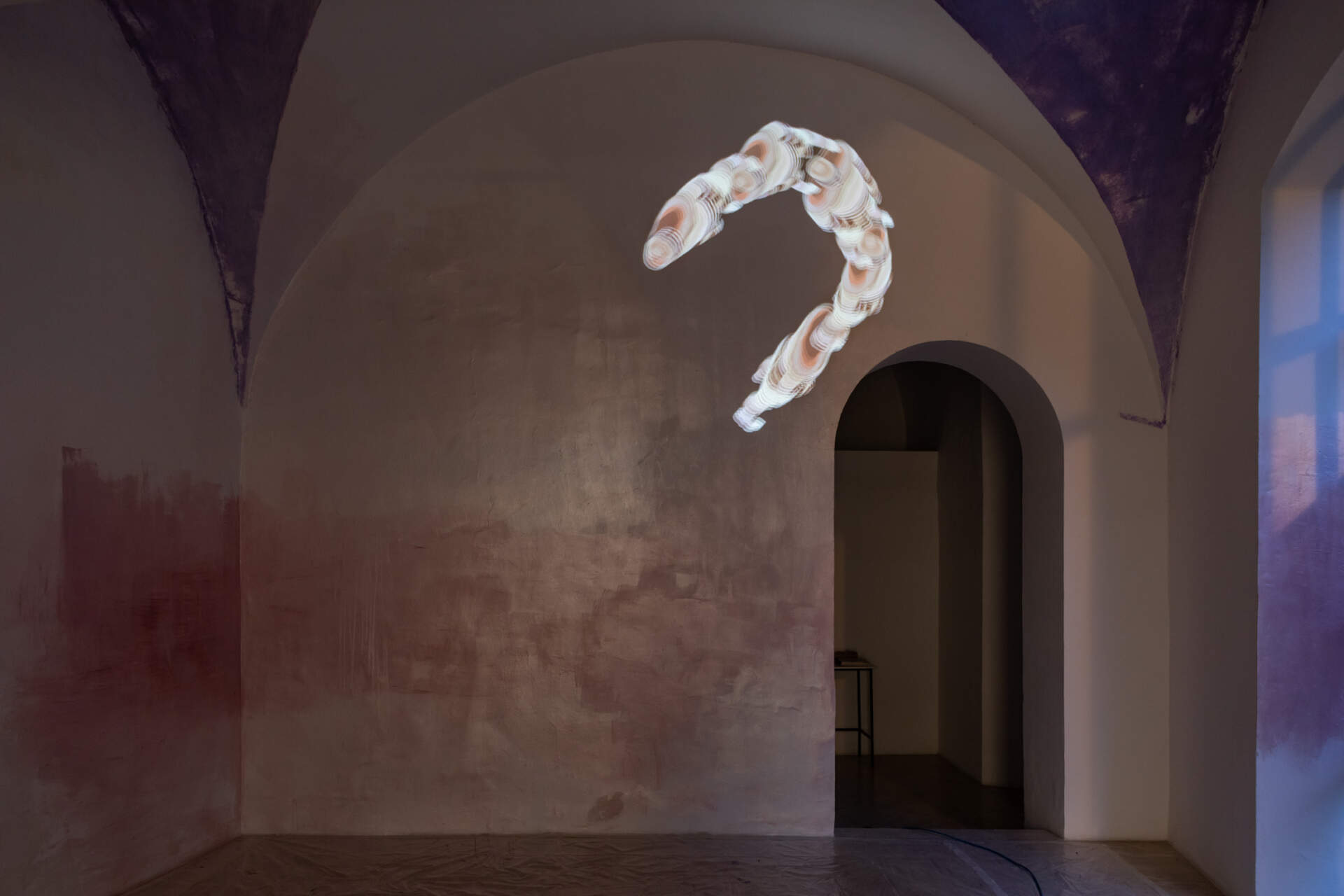 The relationship between Manetas and DALL-E is reciprocal and fruitful for a work that cuts across different planes of reality. Manetas and DALL-E, as one, are a cyborg, but their product is totally opposed to the bit, irreconcilable with digital space. Rather, the artist becomes a rupestrian cyborg, a machine that has not forgotten its thousand-year human history, producing a contemporaneity strongly characterised by digital technology, but human at heart. And what can be more obscure for the human – living by sensations, perceptions, senses – than digital space, produced by bits and generated by rational databases? In his analogue and almost tribal environment (the 'cave') Manetas foregrounds all elements that, when speaking of the digital, are exclusively human.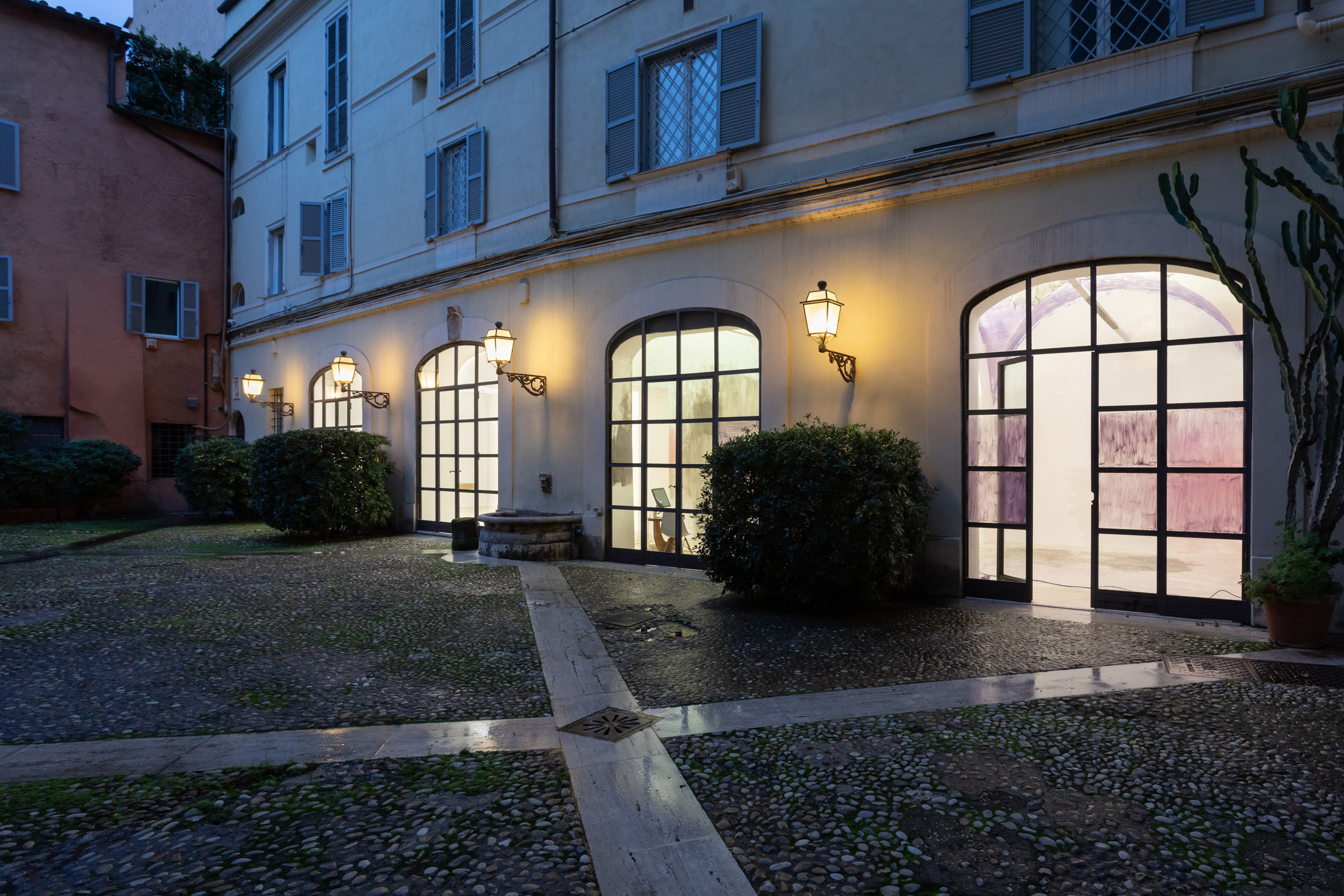 Manetas's device, is complex and multifaceted, transcending the analogue-digital dichotomy just as the exhibition itself transcends the light-dark dichotomy. The darkness that Manetas displays is the 'darkness of knowledge' that grips us, between the analogue and the digital in which we exist, in which the concept of truth and falsehood can no longer find meaning. ManingtheDark.com is an illusion – a phantasmagorical creature posing as real in a real space posing as phantasmagorical. Boundaries become imperceptible and luminous darkness makes digital ghosts appear.
Caves become simulacra of the web while reality becomes more and more multifaceted with a decisive, ephemeral complexity.
Fabio Giagnacovo for https://www.arshake.com
During Notte Oscura at at Fondazione Memmo in Rome, the first Artificial Intelligence Polaroids appeared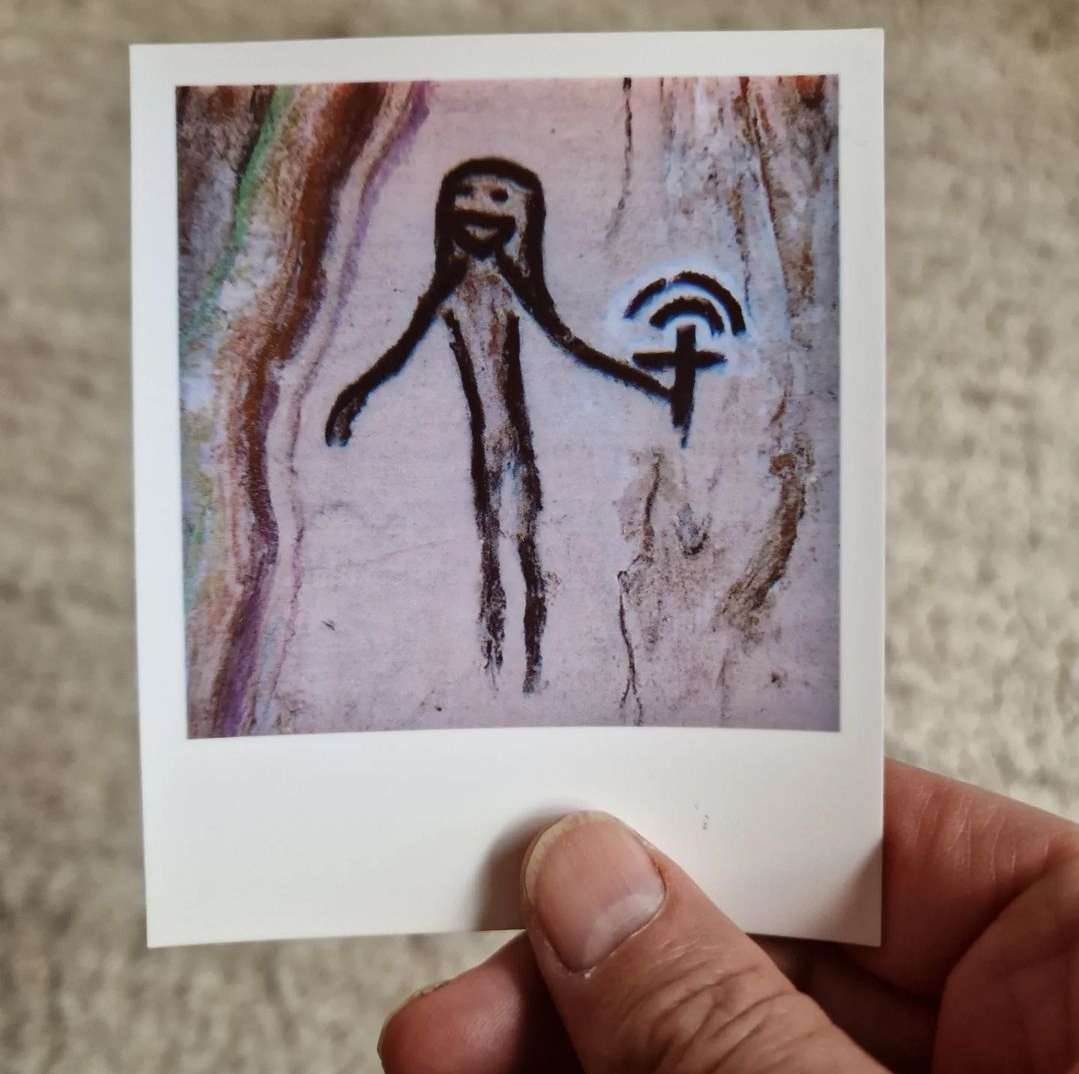 Prompt: "JESUS BRINGS BACK CONNECTION"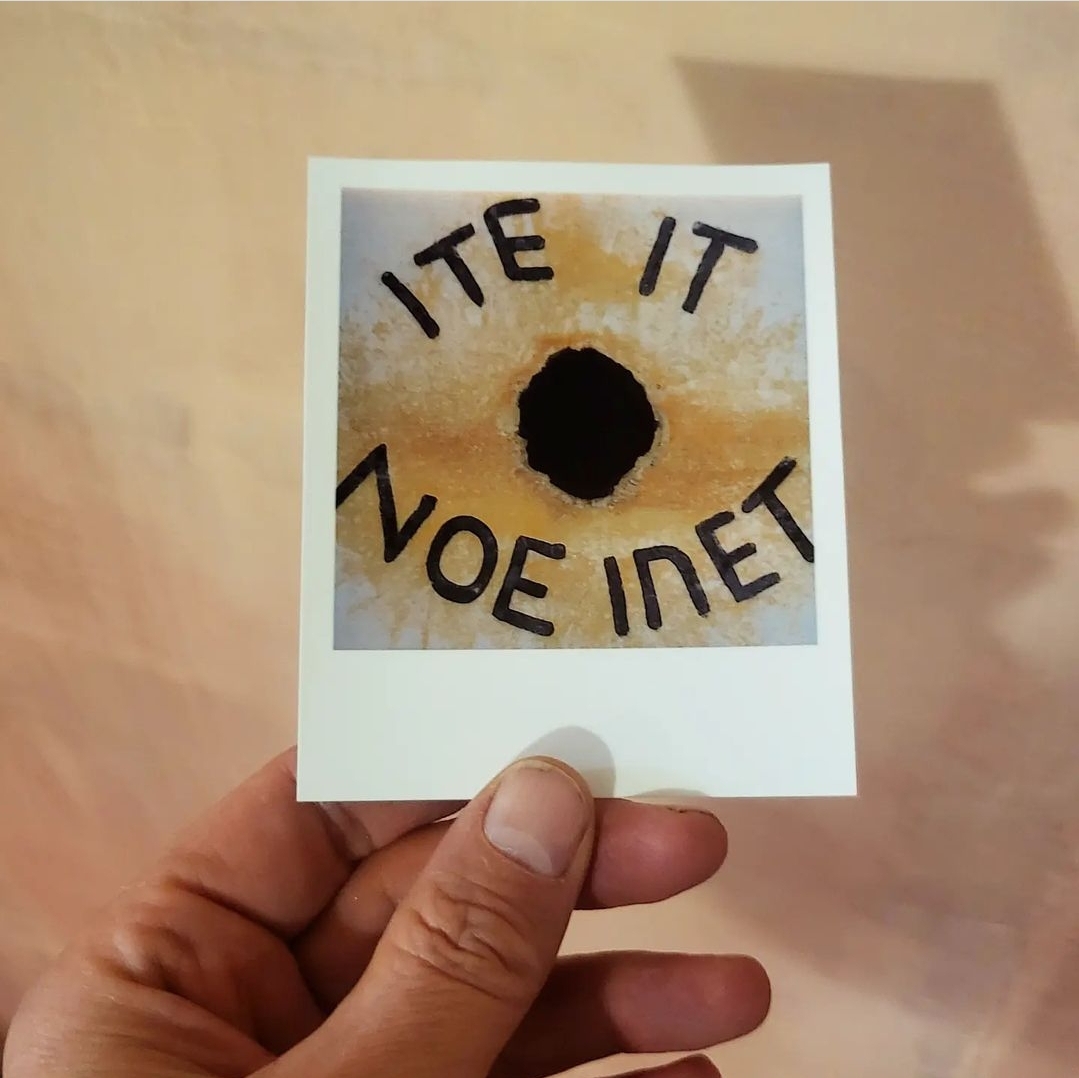 Prompt: "TRANSLATE "OUTSIDE OF THE INTERNET THERE IS NO GLORY" TO YOUR TOUNGUE"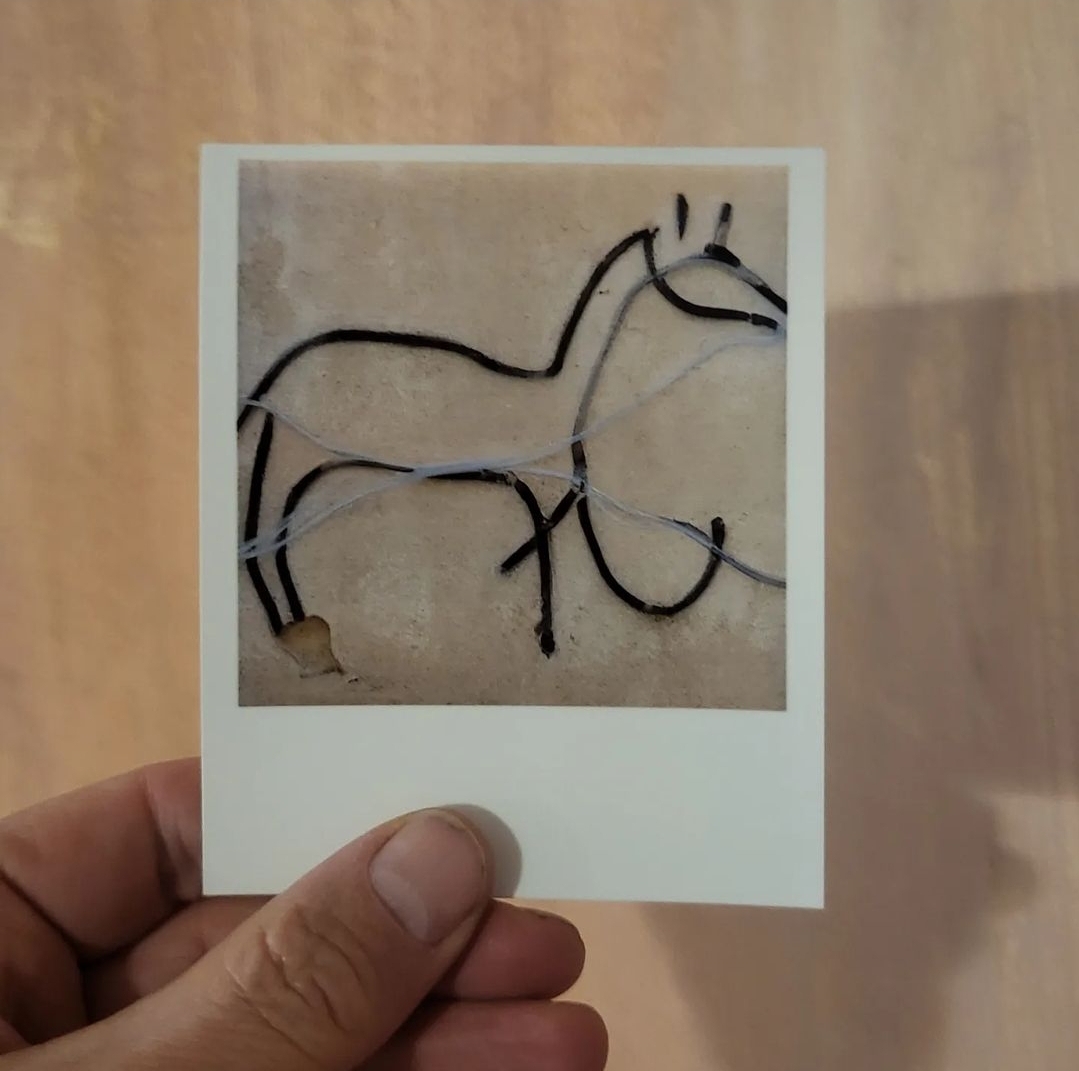 Prompt: "TRANSPARENT BLACK INTERNET CABLES TRANSFORMED TO TRANSPARENT HORSES TRANSFORMED TO TRANSPARENT LETTERS TRANSFORMED TO TRANSPARENT ROCKS TRANSFORMED TO TRANSPARENT BLU"
From 2021, I start exporting Metaverse to real life using soap over pigment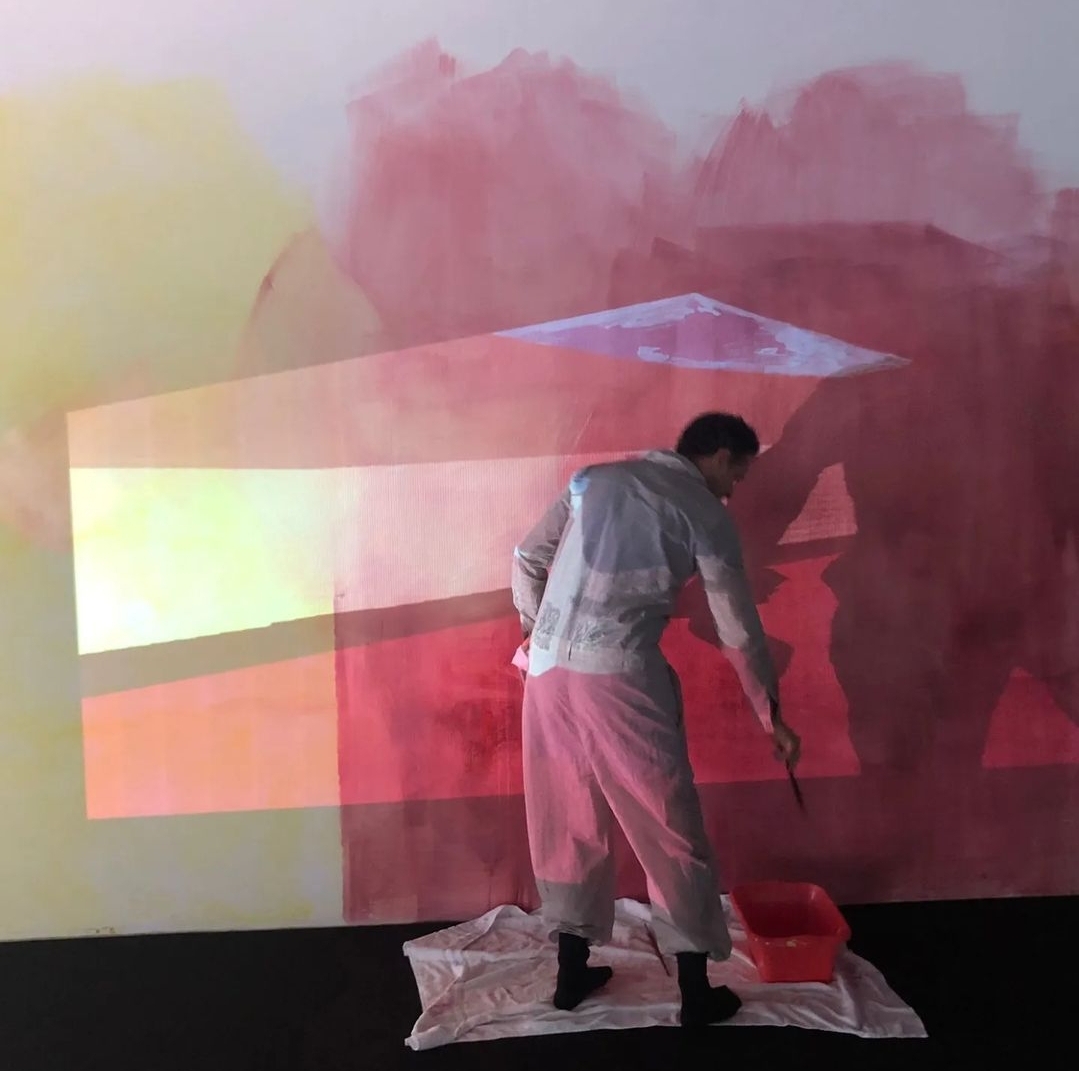 Painting a Floating studio wall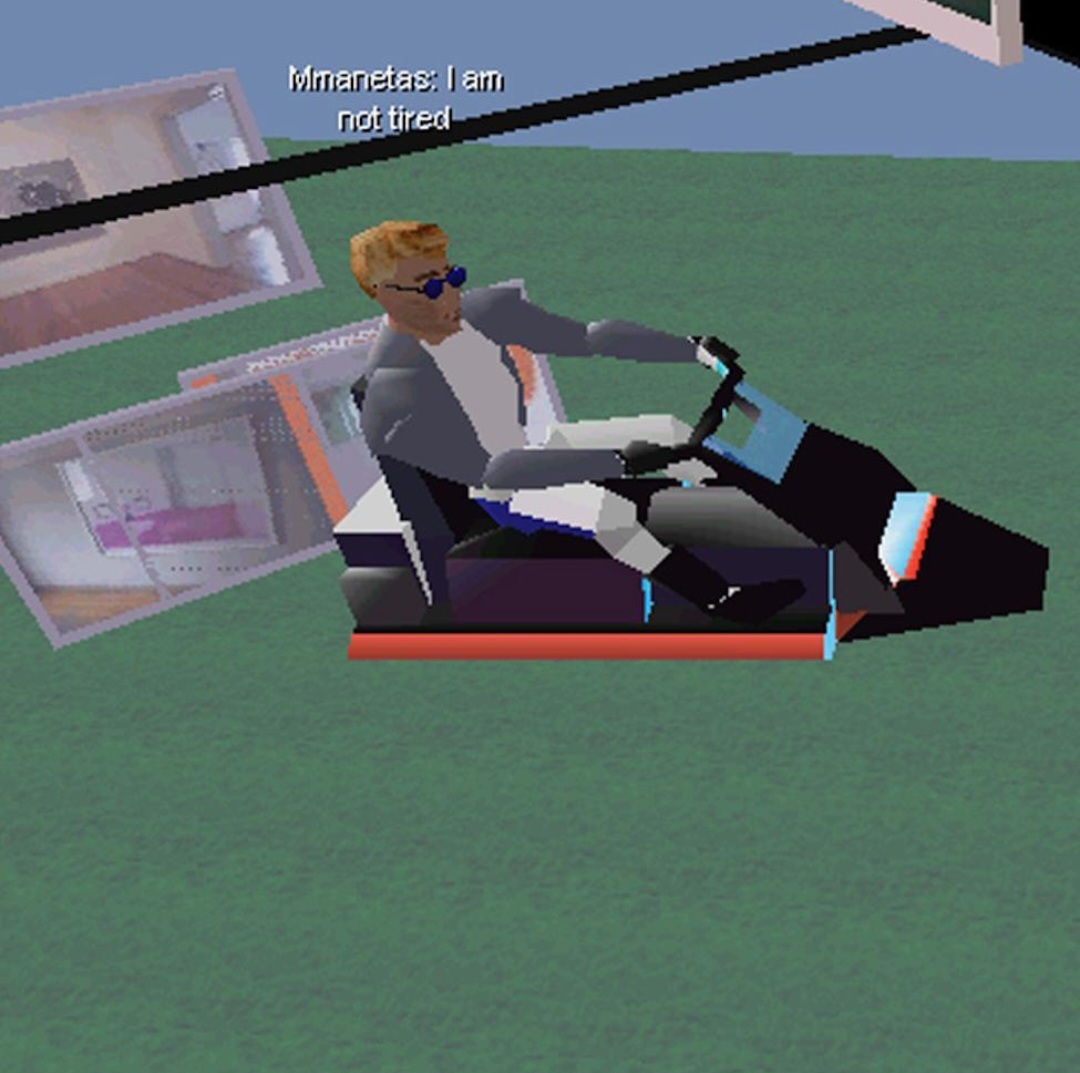 The original Metaverse Floating Studio at Chelsea World in Active Worlds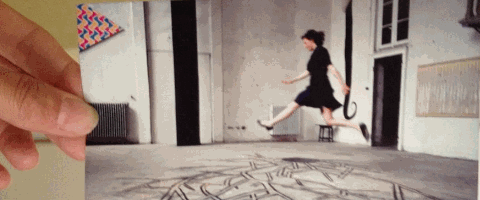 EARLY STUDENT-DAYS IN ITALY
In 1985 I left Athens. The Art-school there wouldn't accept me. "Don't lose your time, you have no talent" one of the professors said- I think his name was Tetsis or Kokkinidis . Or maybe was Yiannis Moralis who 40 years earlier, at the eve of his professor career had refused Jannis Kounellis: "Don´t try Jannis, you have no talent."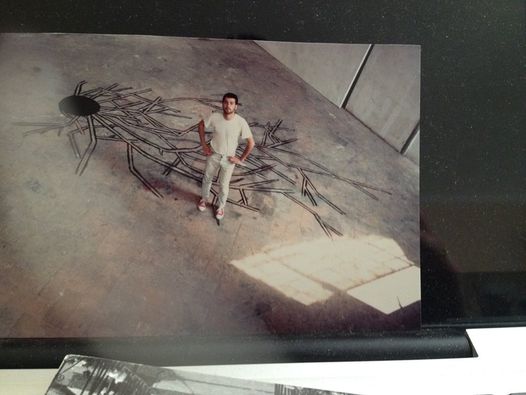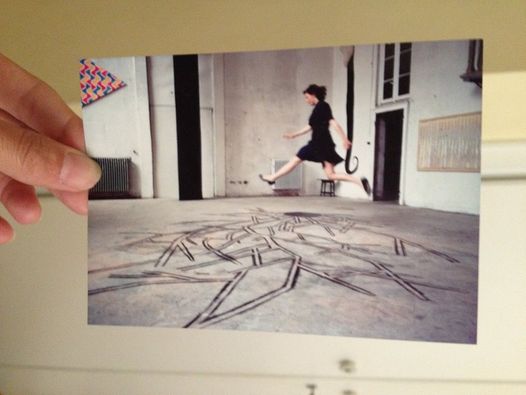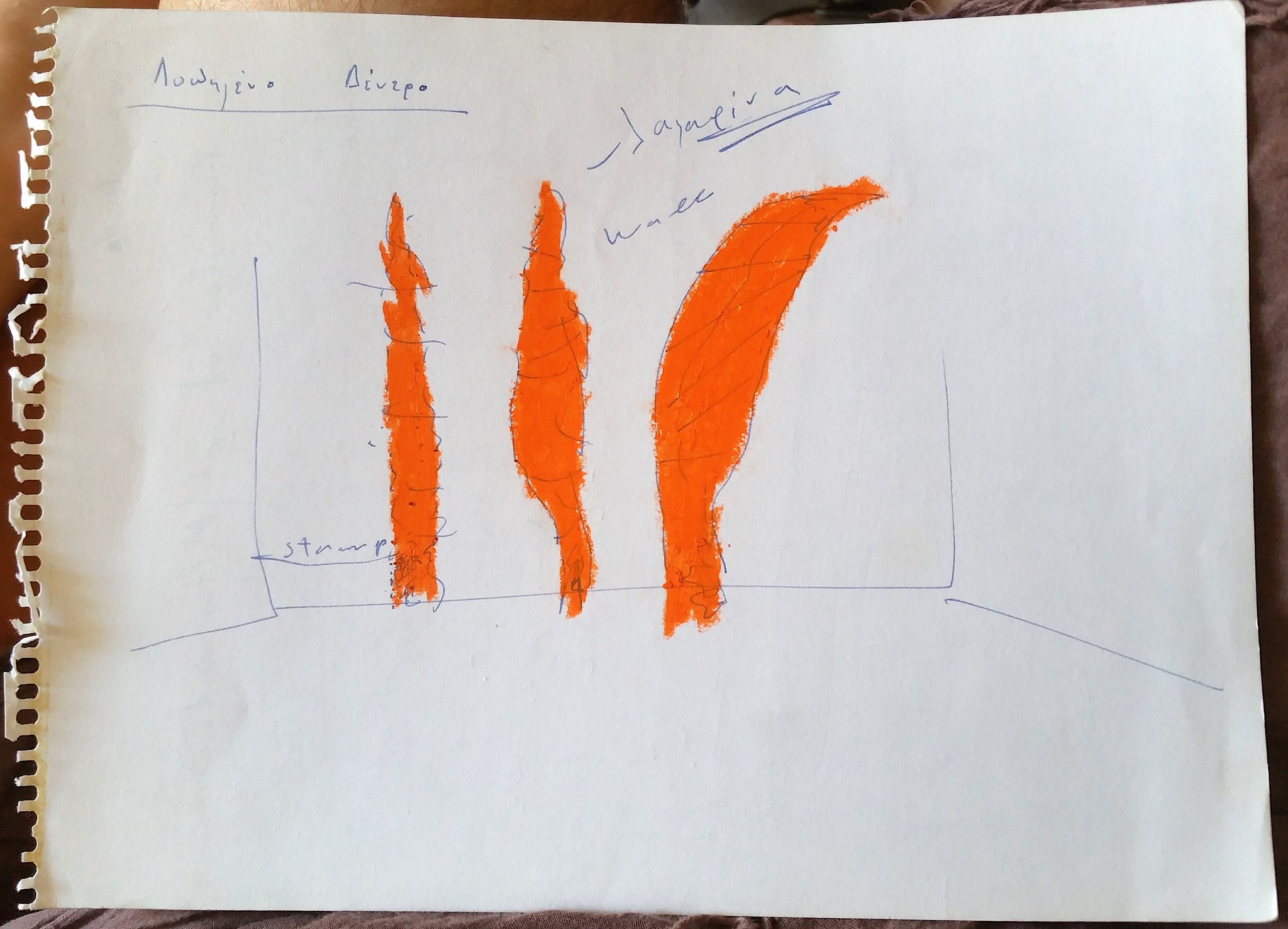 "Plywood Vases" Vehicles of Identity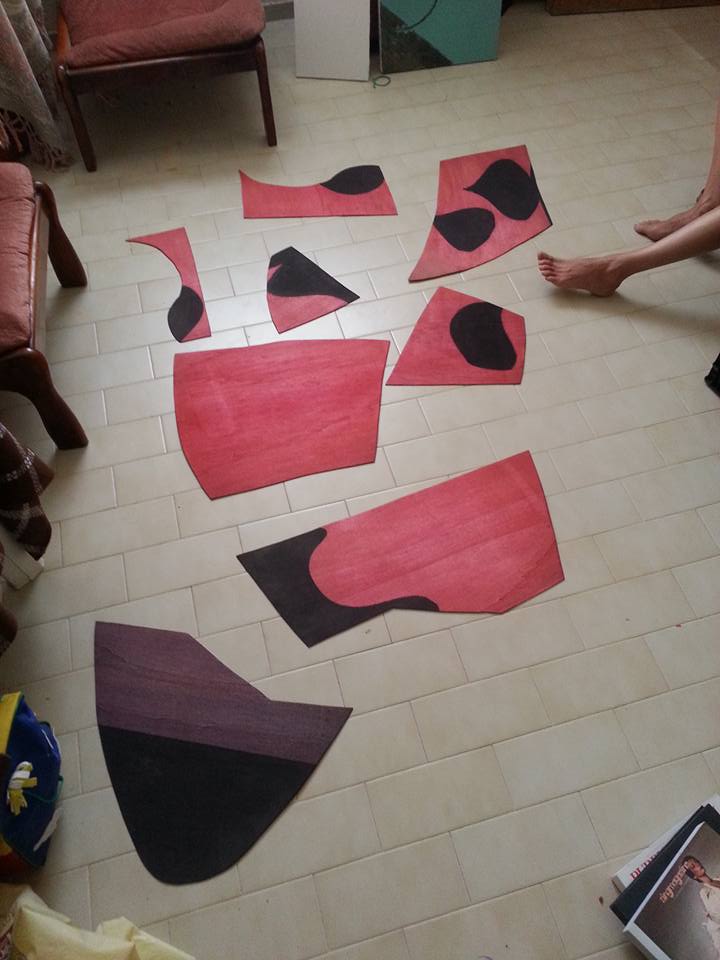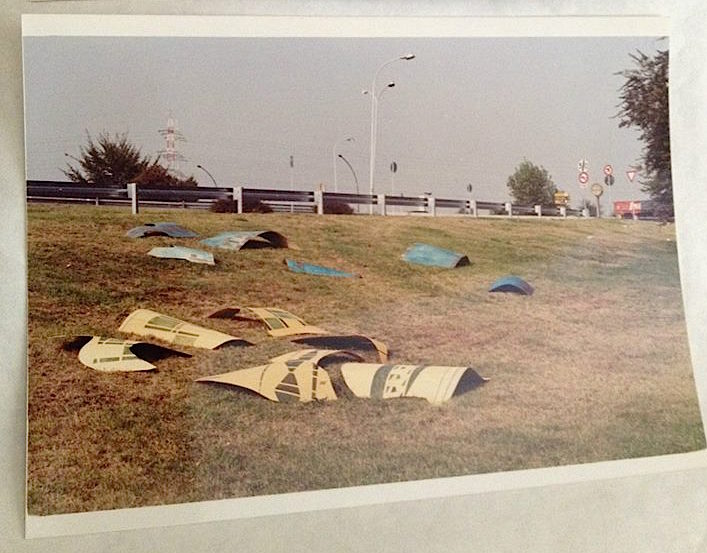 Large Vase on the highway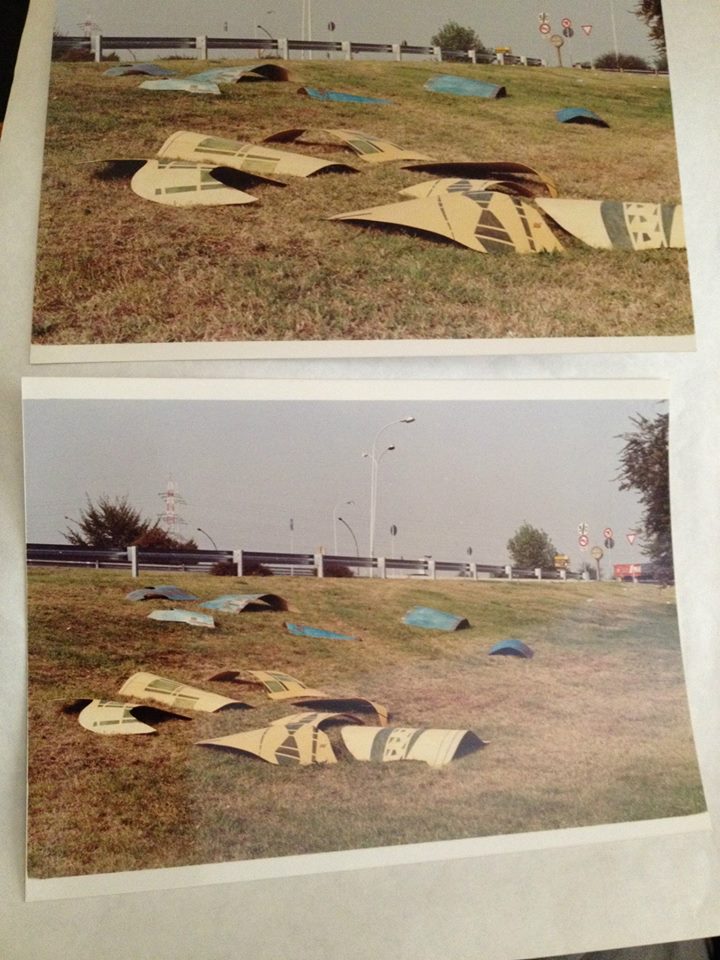 My First Gallery One-Man Show
"Finishing artschool I looked around me. Art-people everywhere, artists, collectors, gallerists, art-writers, photographers.. I thought I should start from them. Come to know them and at the same time produce a work from their faces, their profiles to be exact... I´d go met them and I´d ask them to pose for a profile picture. Then I ´d draw each profile on a piece of plywood, cut it out, curve the name of the person on it and hang them all alfabetically in the gallery. It was some kind of performance, a primitive Facebook...
At a gallery in Milan and Athens and Hamburg
At a gallery in Milan and Athens and Hamburg
At a gallery in Milan and Athens and Hamburg
»From 1990, I start collecting art-people. «
»Taking a profile picture from them«
»cutting their figure on a piece of plywood and tracing their name under«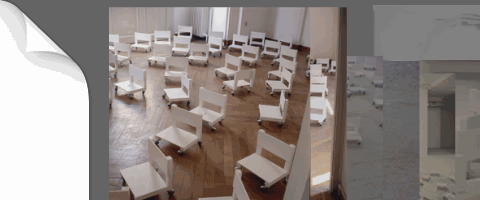 Successfully Contemporary
"These were the years of Art Magazines and NeoGeo. Many same things.. In Greece an enthusiastic collector was buying everything. Together with his friend Jeffrey Deitch they were planning POST HUMAN, a very important show and they wanted to include my "51 Chairs and a few Assholes". I got inspired.. Dakis owned a big hotel, The Intercontinental. I remember reading somewhere about computers and projectors and although I had never seen one, I asked Dakis if I could make a new work to one of his many hotel rooms instead, using a computer. I wanted to start travel all around the globe and from time to time, to send pictures by FedEx that an assistant would be loading to a computer and projecting them in such a way that every time that hotel´s door would be opened, a new fresh picture from the world would appear. It was a pro-Facebook fantasy but Dakis said he didn't´ like computers and finally they never include me in POST HUMAN, Jeffrey replaced me with someone from NY who was doing something quite similar to my 51 Chairs.
» At 1990 I founded Different Opinion to allow to artists start producing artworks that were different from what each of us usually does«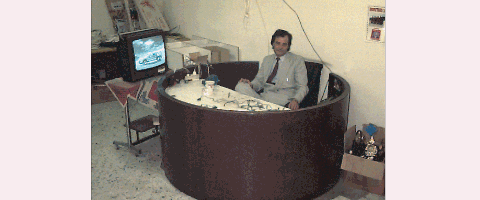 "Demenza, 1990-1994. Each photo, edition of 3, Exhibited at FATTO IN ITALIA, Contemporary Art from Italy, Centre d'Art Contemporain, Geneva,- ICA, London. Published at the catalog of TRAFFIC, CAPC Museum of Contemporary Art, Bordeaux, FR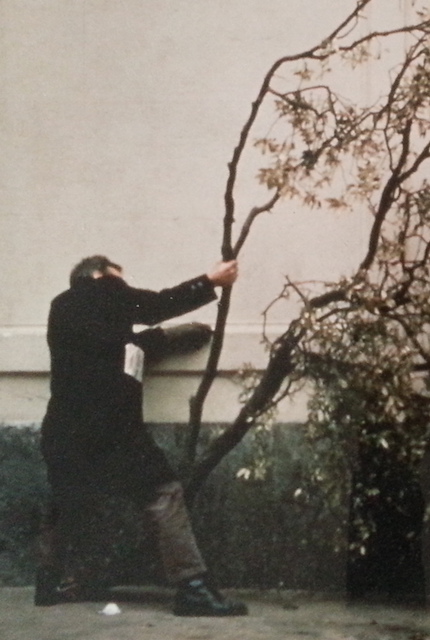 Lunacy, Insanity, Socratic Irony
"In Greek ancient comedy there are two dogs: Eirôn and Alazon. Eiron was a clever underdog who by his wit repeatedly triumphs over the boastful character Alazon. According to Encyclopaedia Britannica, the Socratic irony of the Platonic dialogs derives from this comic origin. The Italian word "demenza", (from the Latin dementia deriving from "demens"), translates in English to "insanity" and "lunacy". I believe there exists a certain performative element of the world that can be expressed with a certain lunacy and insanity. In that sense, "demenza" would be better translated as "irony", not the irony of our days but the Socratic irony, an attitude that isn't just limited in the dissimulation of ignorance but becomes- as a matter of fact- a performance.
The Concept of Irony with Continual Reference to Socrates
"'As Søren Kierkegaard explains on his doctoral thesis, "The Concept of Irony with Continual Reference to Socrates" "Socrates not only used irony but was so dedicated to irony that he himself succumbed to it." That was back then, when the world was fresh. In our days, such "insanity", not only is often performed (especially in the arts & spectacle) but more importantly, it has become an element of our environment. We find "demenza" in our cities, in Milan, Athens, Berlin (where I took some of these pictures) and sometimes we also find it in the countryside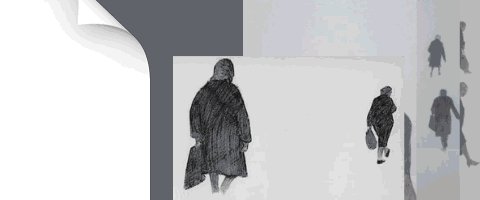 Satellites, 1992-1993, 100 x 300 cm, B&W Photograph, Edition of 3 + 2 A/P, Collection: Polla, Geneva, Private Collection, GR, Photo by Armin Linke, styled by Vanessa Beecroft

"SATELLITES" (Drawings, started in 1992)

Satellites, 1992-1993, 100 x 300 cm, B&W Photograph, Edition of 3 + 2 A/P, Collection: Polla, Geneva, Private Collection, GR, Photo by Armin Linke, styled by Vanessa Beecroft
»They flow around your life«
» From its beggining until its end «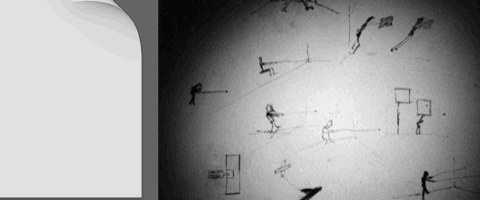 Dedicated to William Gibson's "Neuromancer"
Installation "Collegamenti"
Performance "Collegamenti"
»A wall was prepared with stereo sockets mounted on it (I knew nothing about computers yet)«
» A number of "collegamenti" pencil-drawings were drawn directly onto the wall. On the surface of an over-scaled table, some plugs were left «
1993, EXTRAS,"THE BOOK OF OTHERS"
" EXTRAS: imaginary people I meet in books. This work is an infinite, constantly growing collection of descriptions of fictional characters. It exists in form of a database that is stored partly online, partly on a series of books in demand and finally in the documentation attached to the "Collector's Item" that represents this artwork.

EXTRAS has to be performed by the latest laptop in the market with a computer voice chosen randomly. "Mr Hyde was pale and dwarfish, he gave an impression of deformity without any nameable malformation, he had a displeasing smile, he spoke with a husky, whispering and somewhat broken voice" I start collecting EXTRAS in 1993. My first "EXTRAS" performance was created for the group show "Het krijwitte kind" (SCHONHEIT MACHT SCHAMHAFT), Aschenbach Gallery, Amsterdam, curated by Paul Groot, staring Vanessa Beecroft. The same year, I had my first one-man show in Italy at the historical Galleria Fac-Simile in Milan.( "COMPARSE", staring Vanessa Beecroft)
Extraordinary looking man
1994, My First Computer: Powerbook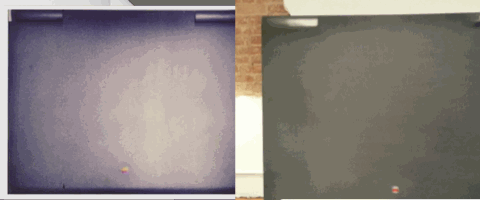 Suddenly, the computer enter my life. A dealer had sold a work and need to give me 2000 USD. I was at her house holding that money when a yuppie friend of hers arrived. He had a gray box with him and he said: " I am selling it, do you want it?"Yes, I am buying it, what is it? I asked"A computer" he said. Macintosh PowerBook". He turned it on and the thing light up, its screen black &amp white.

10 APPLE laptops (Powerbook) are turned into poets. Each "poet", is using a different computer simulated voice, reading-in loop- a poem written in the 18th Century . Exhibited at VHS, a show curated by Giacinto di Pietrantonio at Palazzina Liberty, Milan, Italy
COMPUTER-DESKTOP READYMADE
In Naples, Italy
"Output 1.0" &amp "Whoops!"
In Milan, Italy
Computer-Desktop Readymade
In Naples, Italy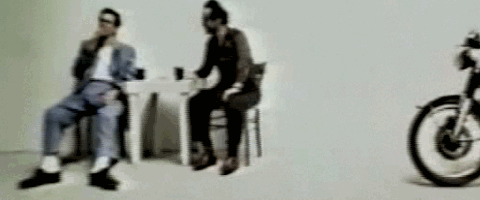 In Milan, Italy
1995, First oil on canvas Paintings
" I looked on my computer screen..
"Written in Computers" Paintings
" I looked on the screen of my laptop and there were things written on it. There was a progress bar. A sign saying "Stop" and a sign saying "Continue". Another saying "Game Paused"...So I project them them and painted them..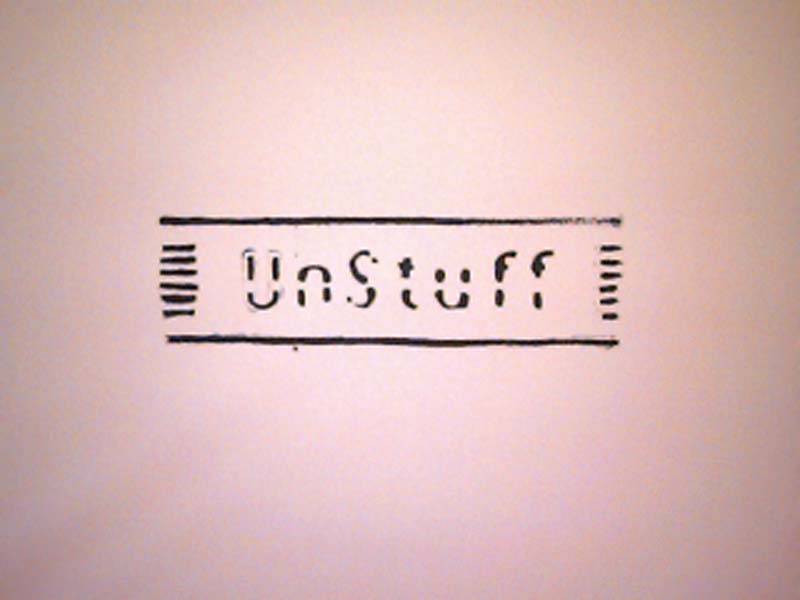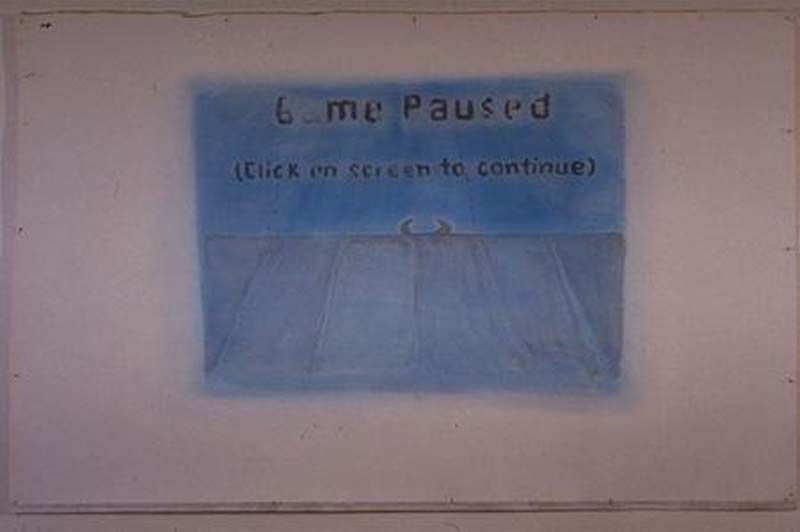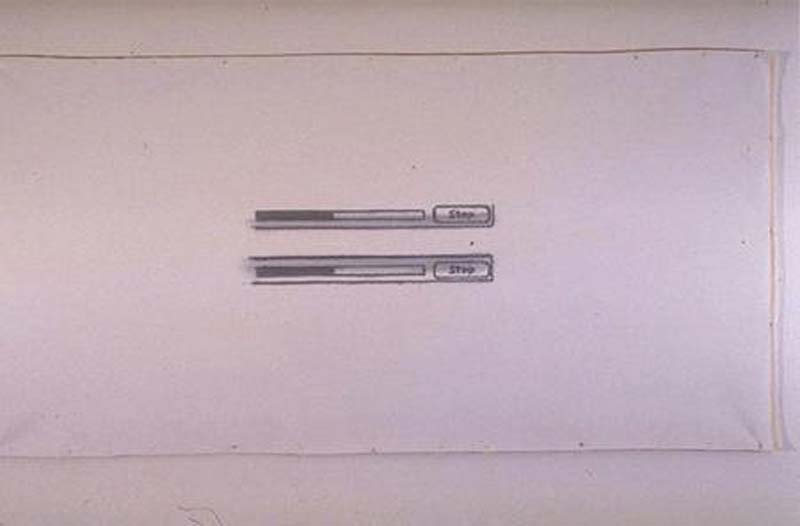 TRAFFIC Introduction to Relational Aesthetics
Curated by Nicolas Bourriaud at CAPC, Musée d'art contemporain, Bordeaux
1996, Relational Aesthetics
" Relational art or relational aesthetics is a mode or tendency in fine art practice originally observed and highlighted by French art critic Nicolas Bourriaud. Bourriaud defined the approach as "a set of artistic practices which take as their theoretical and practical point of departure the whole of human relations and their social context, rather than an independent and private space." The artist can be more accurately viewed as the "catalyst" in relational art, rather than being at the centre.. One of the first attempts to analyze and categorize art from the 1990s, the idea of Relational Art was developed by Nicolas Bourriaud in 1998 in his book Esthétique relationnelle (Relational Aesthetics).The term was first used in 1996, in the catalog for the exhibition Traffic curated by Bourriaud at CAPC musée d'art contemporain de Bordeaux. Traffic included the artists that Bourriaud would continue to refer to throughout the 1990s, such as Henry Bond, Vanessa Beecroft, Maurizio Cattelan, Dominique Gonzalez-Foerster, Liam Gillick, Christine Hill, Carsten Höller, Pierre Huyghe, Miltos Manetas, Jorge Pardo, Philippe Parreno, and Rirkrit Tiravanija. https://en.wikipedia.org/wiki/Relational_art
Relational art - Wikipedia
" "Existence" in Milan, Italy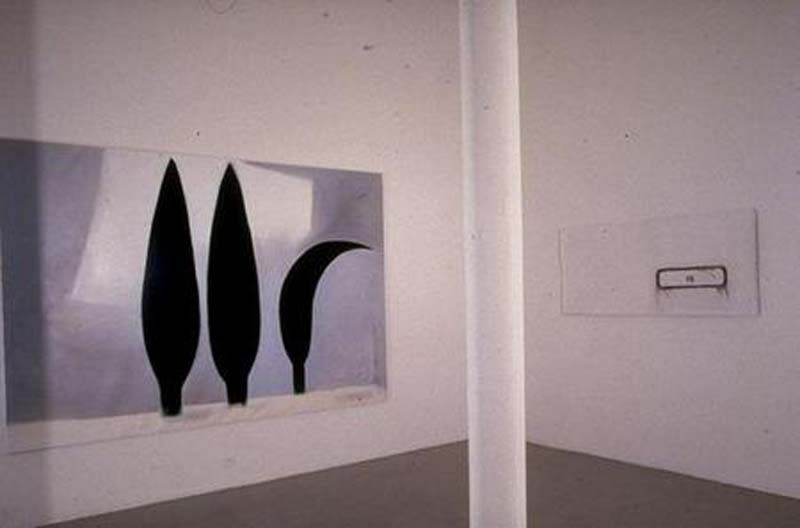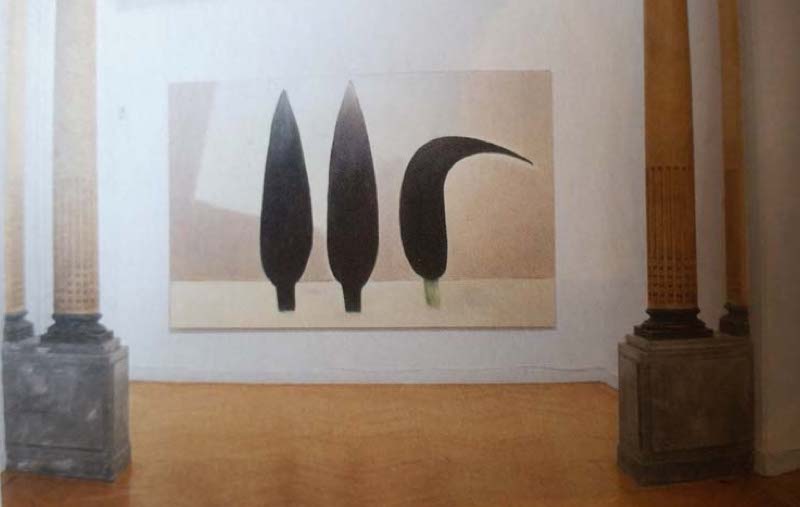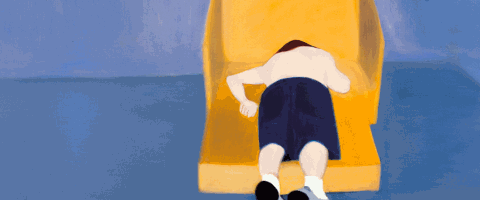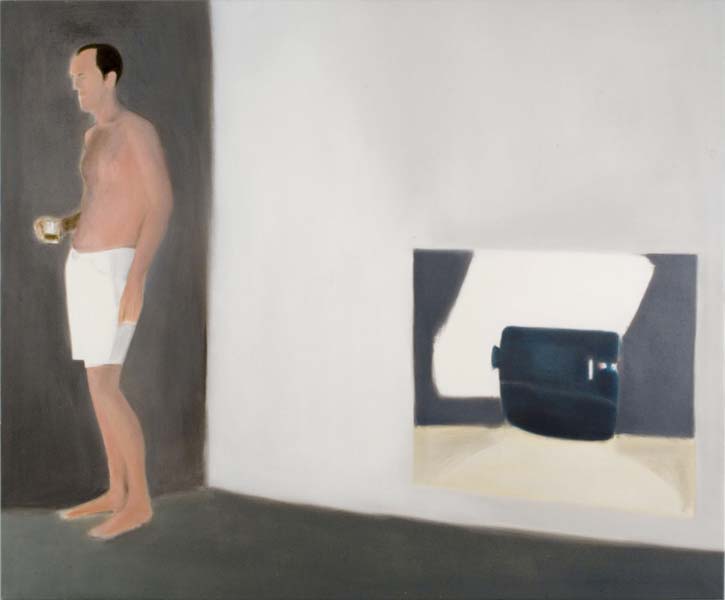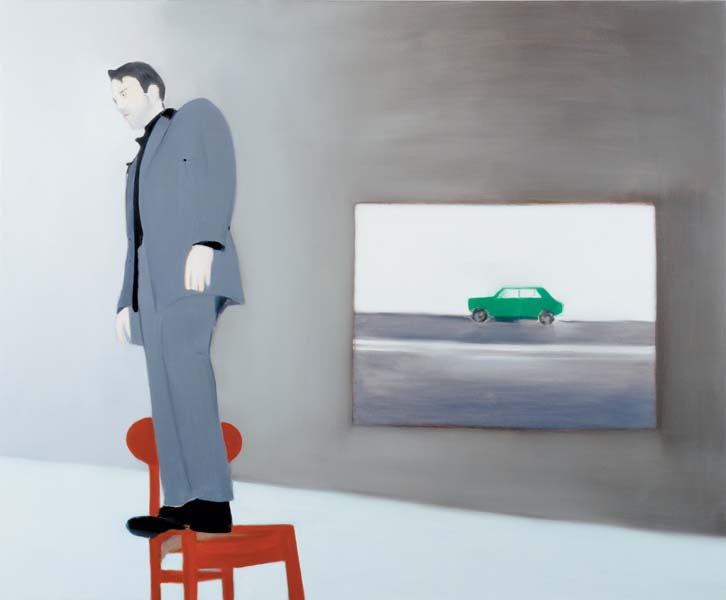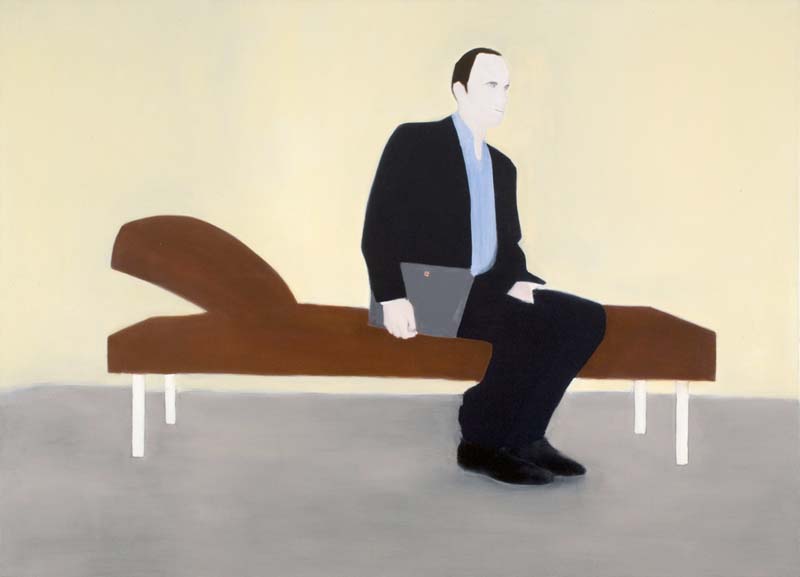 in 1996 I begun Painting...
" "NEW ABSTRACTION" Paintings in New York, US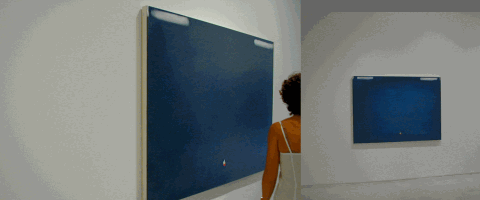 "New Abstraction" Paintings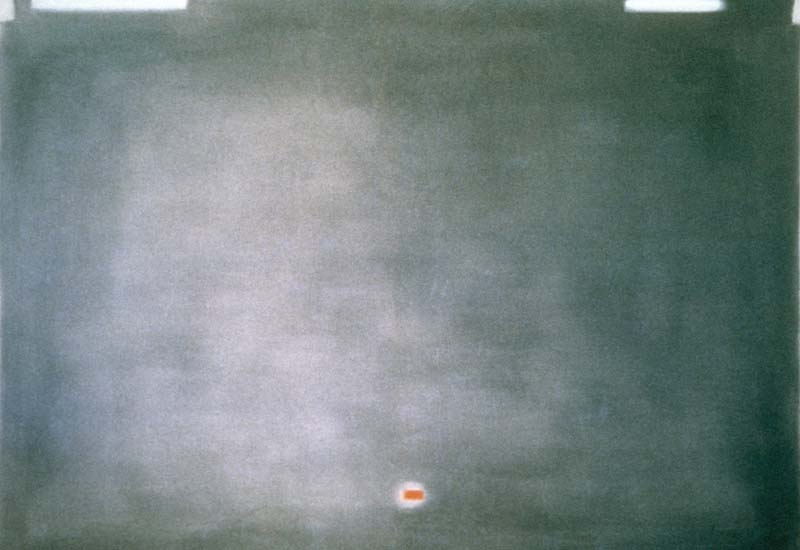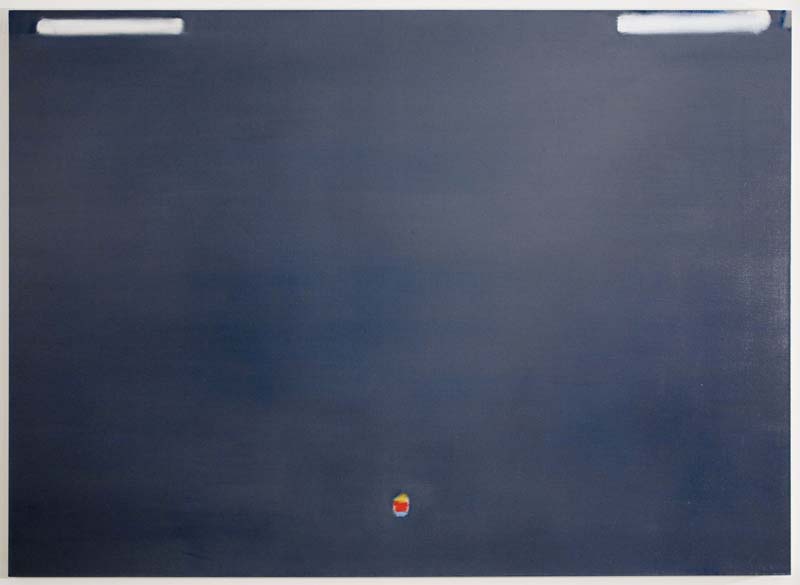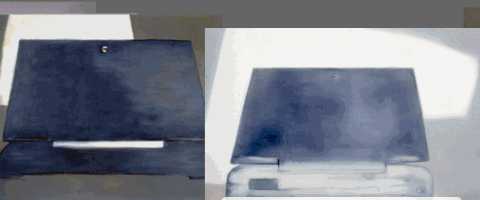 PORTRAITS OF DIGITAL MACHINES
"During the Traffic exhibition I was invited for an one-man show by Xavier Douroux, Franck Gautherot and Eric Troncy. After seeing my "Sad Tree" at Bourriaud's exhibition, they wanted paintings! "What shall I paint?" I asked Vanessa Beecroft- my partner of those days.. She had no idea either but she was reading a book about Andy Warhol. "here it says that Warhol also didn't know what to paint so he asked a friend of his. "What do you like the most?" the friend asked. "Money"-said Warhol. "so just paint money".. At that moment, what I liked most was computers so I decide to start painting them...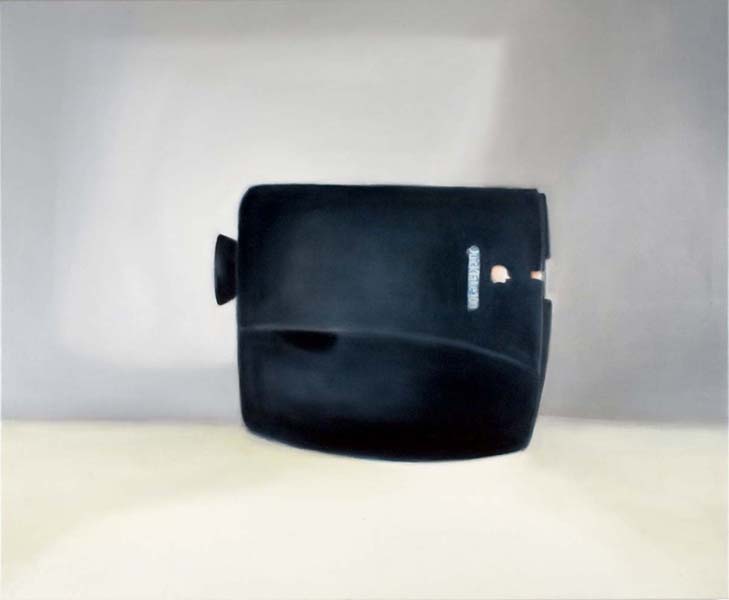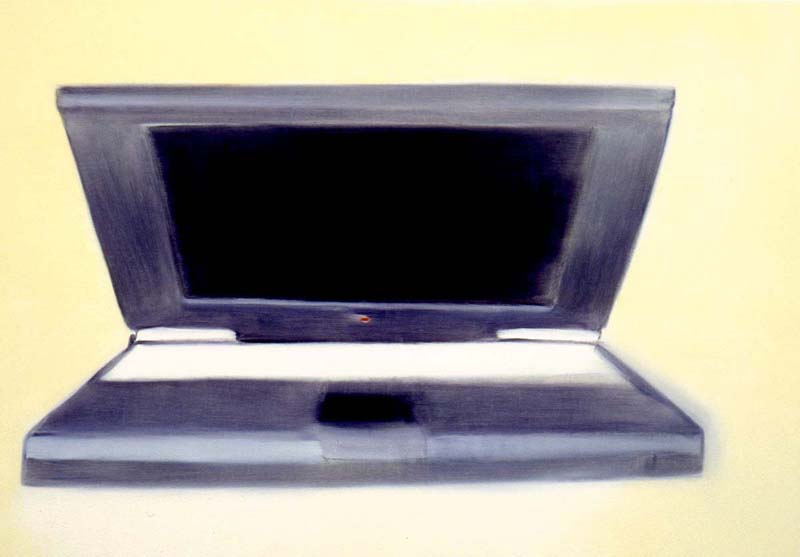 And because there was already INTERNET ...
"I start painting "Internet Paintings" in NYC
in 1997, "INTERNET PAINTINGS"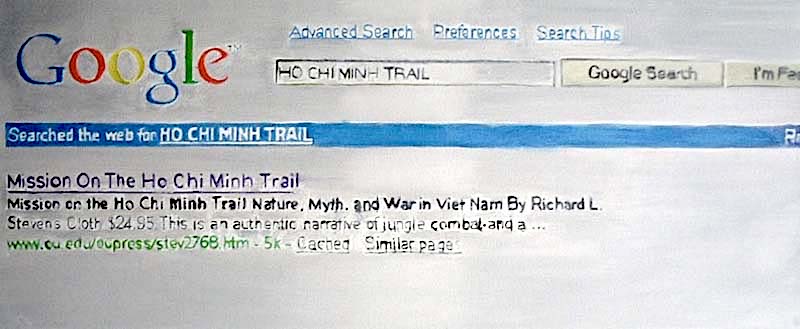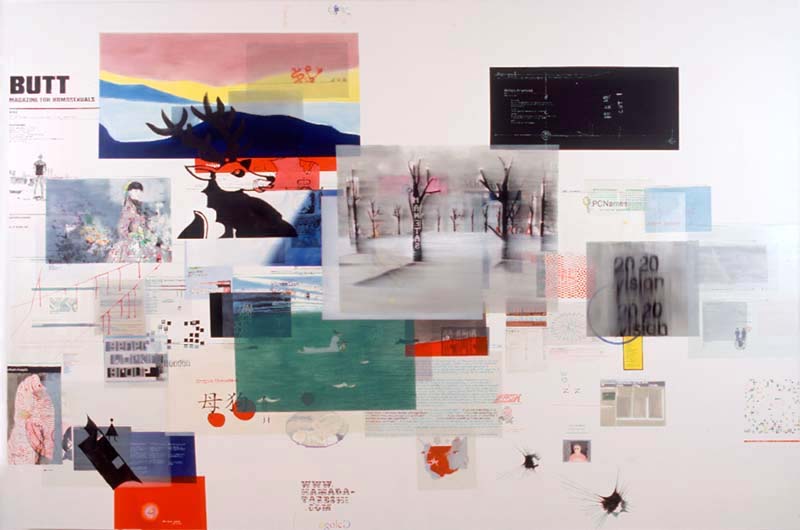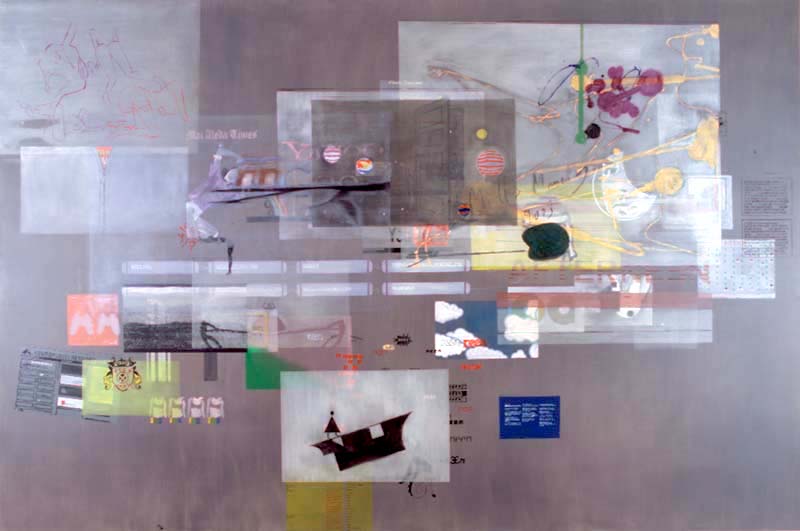 The InternetPaintings at MAXXI

"I noticed there's a new point of view so I start painting "Point of View" in NYC
"Point of View" Paintings
""My Floor" Paintings in NYC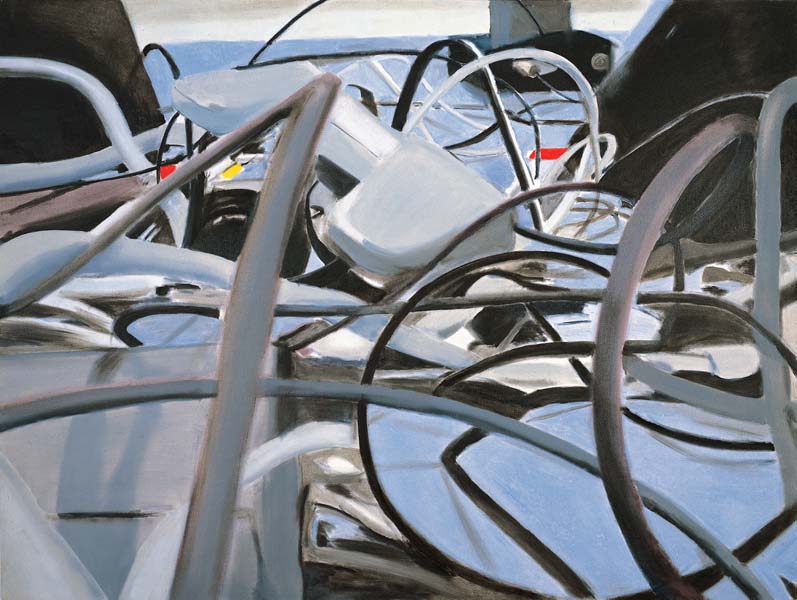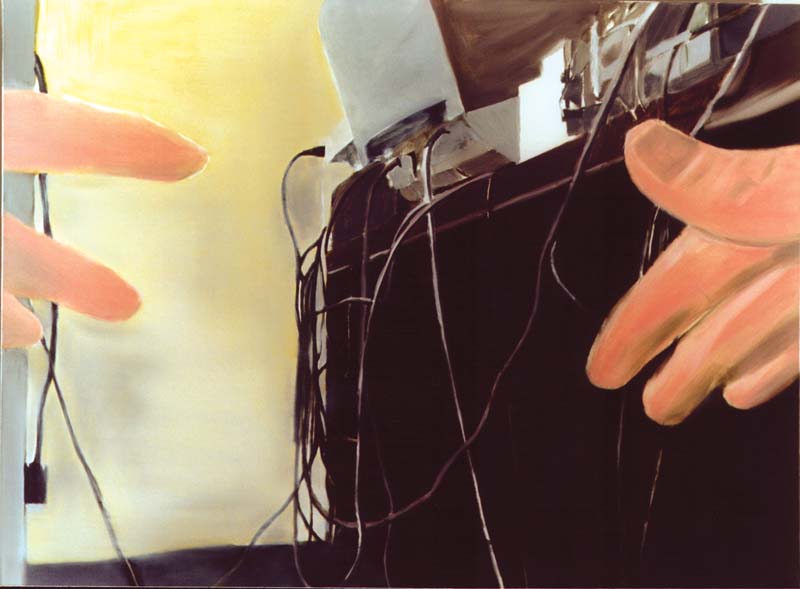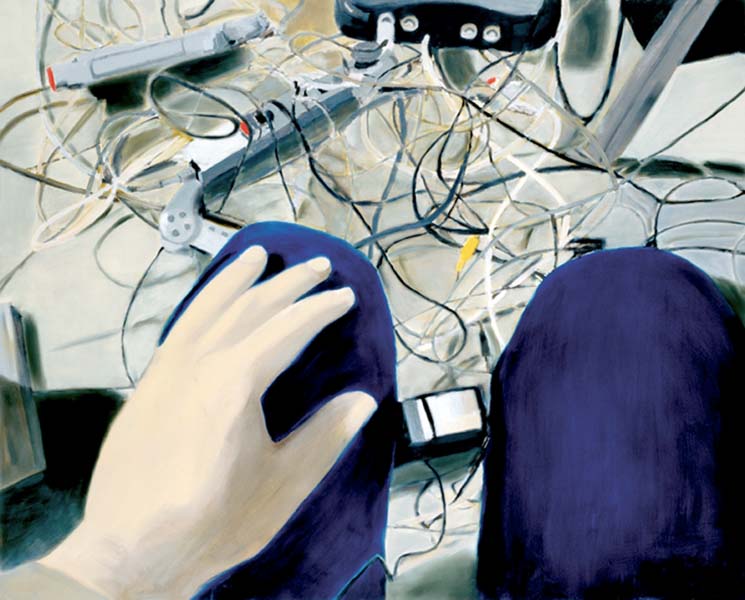 And looking at my floor..
"I looked at my floor in NYC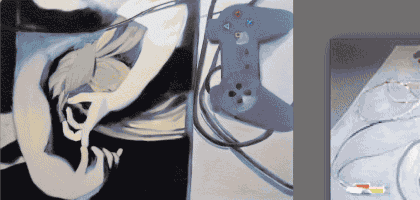 ""My Floor" Paintings in NYC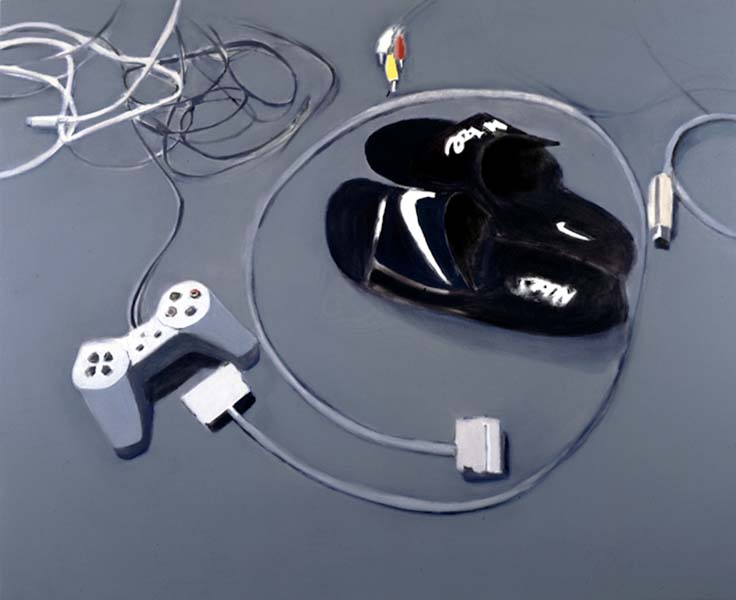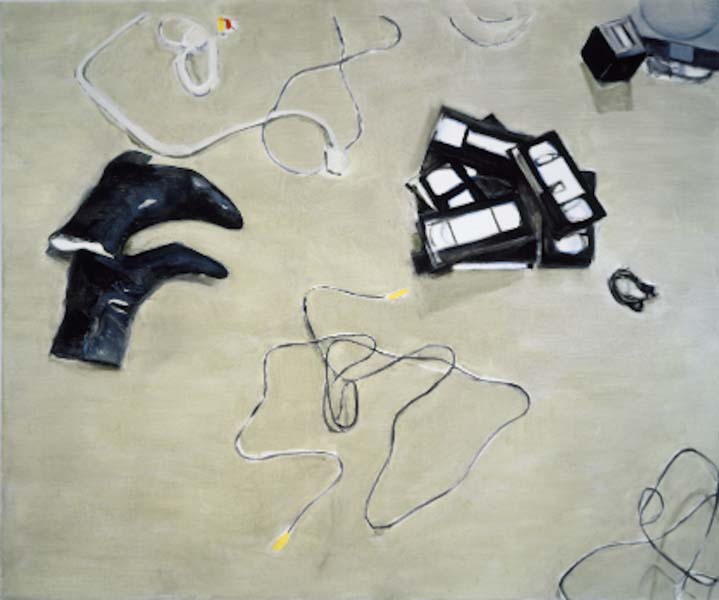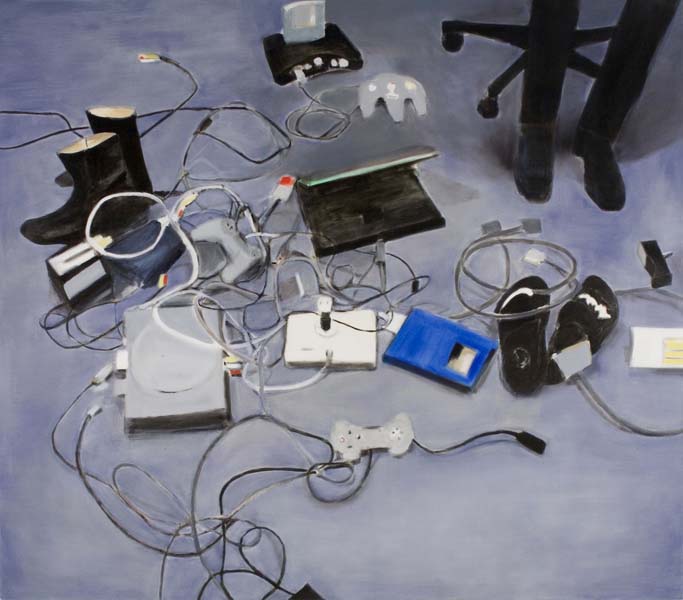 "I start painting cables in NYC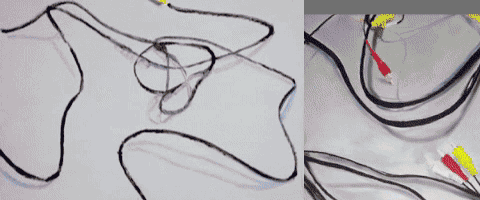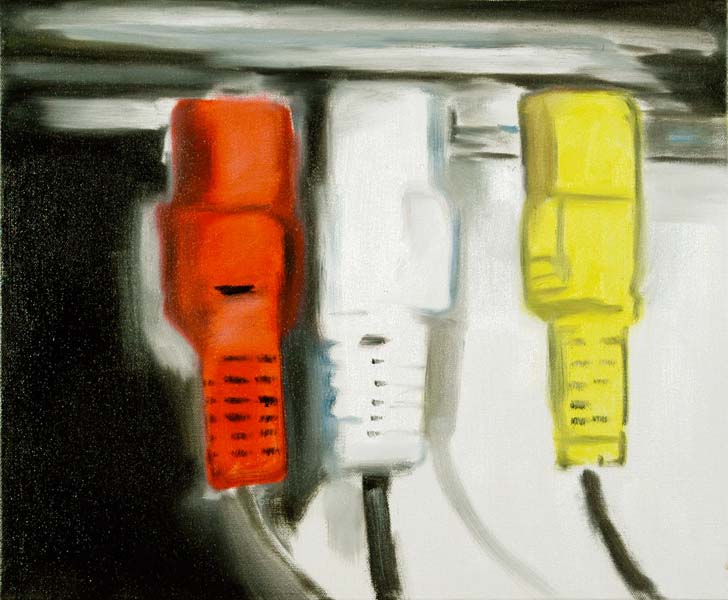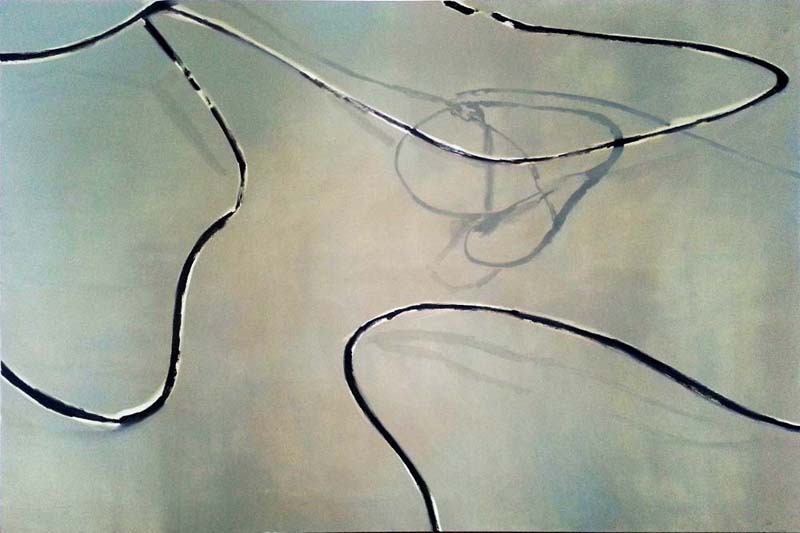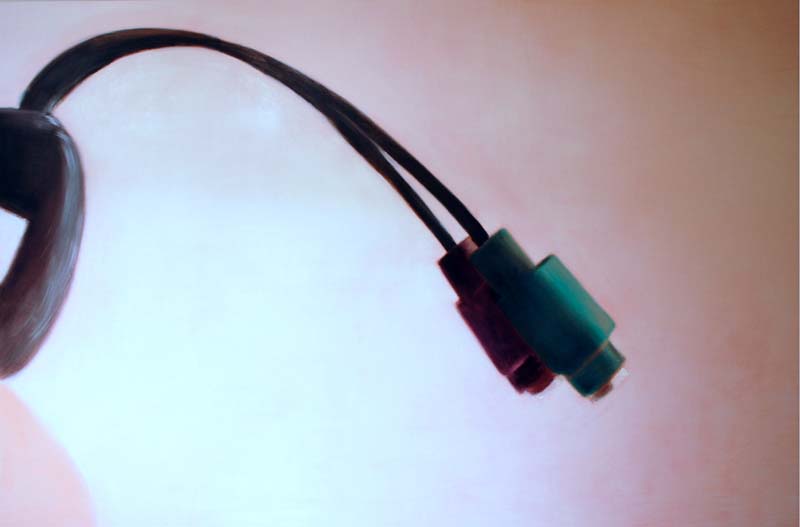 And "Peripherals" Paintings
" "Peripherals Paintings", in NYC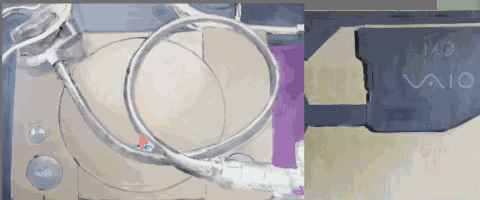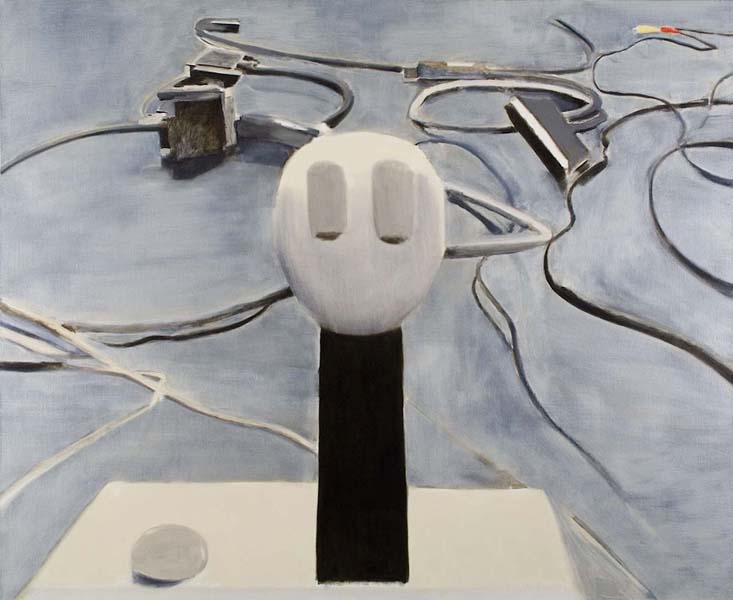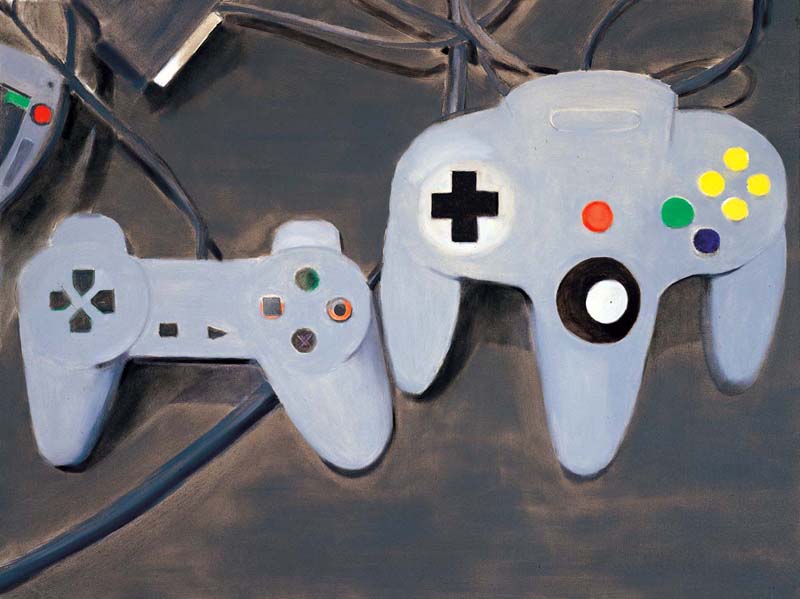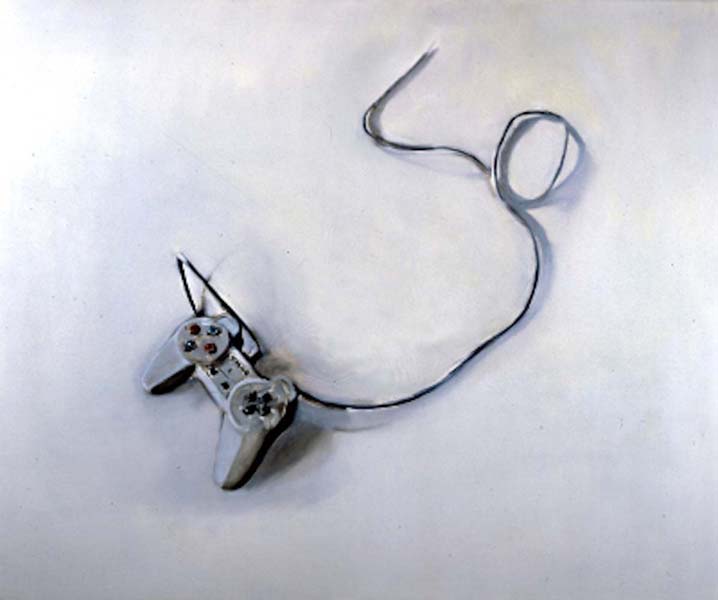 THE BEGINNING OF MACHINIMA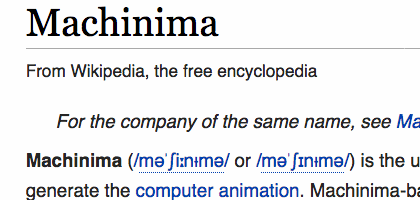 »I locate the roots of this medium in early artistic experimentations such as Miltos Manetas's "Videos After Videogames"
After Videogames Manifesto
Videogames aren't games but EVR: extended versions of reality. Through videogames the process that started with the poems of Homer, Mahabharata and the Bible, continues..
IN 1996, FIRST VIDEO FROM VIDEOGAMES: "MIRACLE"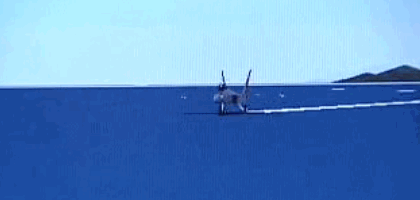 After "Hornet 18" for Apple
First shown at the exhibition "Joint Ventures"
"Videos after Videogames"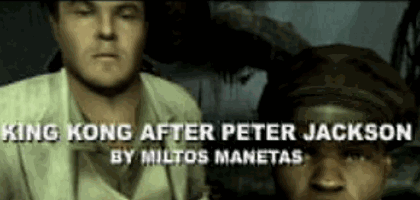 "Prints after Videogames"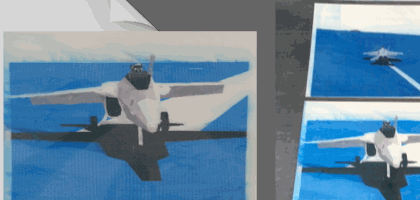 "Playing Videogames" PAINTINGS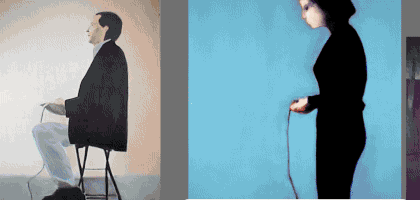 "LOOKING AT COMPUTER SCREENS"
Everybody now Looking at Screens...
"I start painting "Looking at Screens" in NYC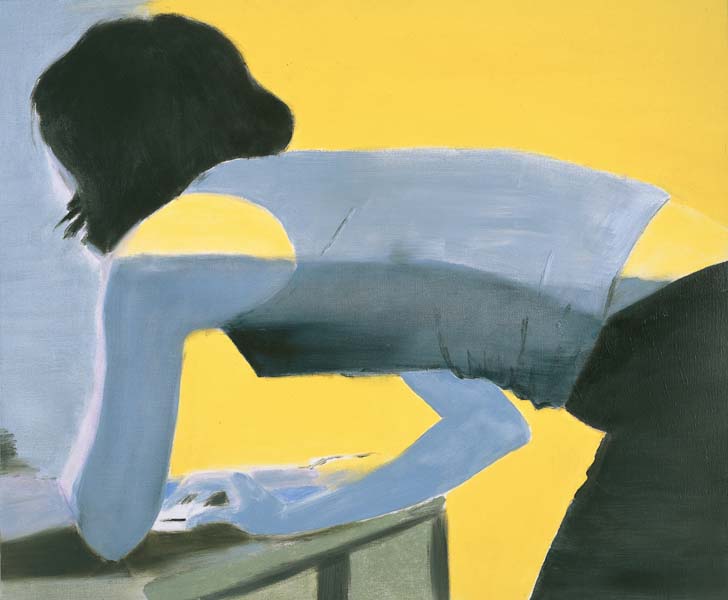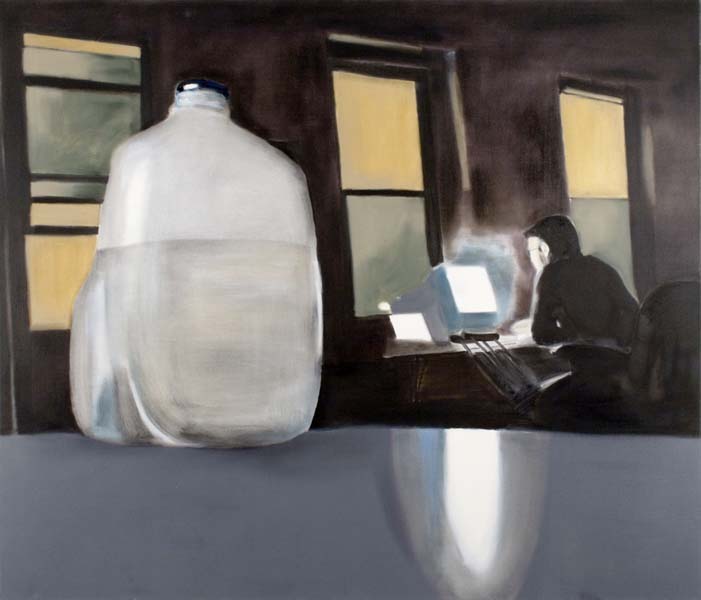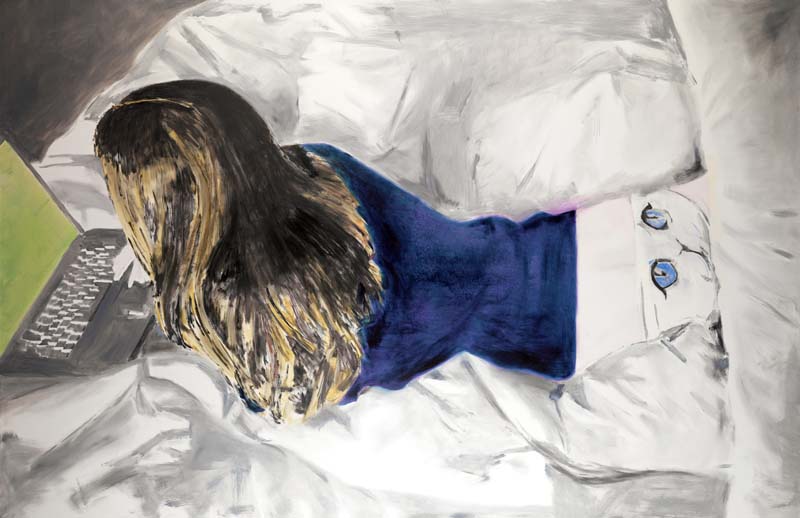 Working in Virtual Worlds"
Interview at my floating studio
» Virtual Worlds «
» Chelsea «
"at Sette, MIDI PYRÉNÉES…
LE CAPITAL curated by Nicolas Bourriaud
"Miltos Manetas's paintings take as subjects the Internet and the power of computers, but use the features of physical objects situated in a domestic interior to allow us access to them. The current success of the market as a formal matrix among contemporary artists has to do with a desire to make commercial relations concrete once again, relations that the postmodern economy tends to make immaterial. And yet this immateriality itself is a fiction, Henochsberg suggests, insofar as what seems most abstract to us - high prices for raw materials or energy, say - are in reality the object of arbitrary negotiations. The work of art may thus consist of a formal arrangement that generates relationships between people, or be born of a social process; I have described this phenomenon as "relational aesthetics," whose main feature is to consider interhuman exchange an aesthetic object in and of itself. (From Bourriaud-Postproduction)…

"I start painting "Screens" in NYC

""My Floor" Paintings in NYC